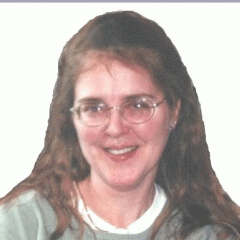 Type of Sarcoma:
Date of Diagnosis:
At the center of Barbara's life were her two cherished children, Andrew and Jennifer. Soon after her diagnosis of sarcoma in 2005, she understood that she would not live more than a few more years. She was determined to care for her children as long as possible and underwent several arduous rounds of treatment to that end. She hoped that their father and her family could work together to love and guide them into adulthood.
Barbara Ann was the sixth child in a family of seven children. As a baby she was called "Bunky" and grew up playing with her sisters, cousins and many friends. As soon as she could write at age six, she began to compose short poems that reflected her moods of happiness or sadness.
She studied French in high school and majored in that language at the University of Minnesota. While still a teenager, she traveled to Europe with her mother and sisters, using her fluency in French to spontaneously interact with the people she met. In later years, she returned to France and Spain, took her children to Mexico and traveled throughout the United States.
Her first jobs were as a restaurant server to pay for college, and she exemplified a professional attitude in her work at the elegant dining room of the St. Paul Hotel. Later, she used her aptitude for detail to assist in route planning for Metro Transit.
She worked for the state of Minnesota, first in the MinnesotaCare program, and most recently as a disability examiner for Social Security. Always generous and interested in others, she retained many lasting friendships.
Her history of medical problems (she was treated for Hodgkin's disease in her early twenties) created an acute awareness of the precariousness of health insurance. The support provided by a union contract during her illness made her a strong advocate of labor organizations.
Barb loved reading and enjoyed a wide range of fiction from the classics to psychological thrillers. She hiked and skied when younger and, more recently, enjoyed golfing, bowling and gardening. A fiercely competitive Scrabble player, she regularly laid down seven-letter words.
Passionate about cats, she found it difficult to deny a home to the many strays that crossed her path. She found great comfort in the purring felines that surrounded her in her bed.
At her request, Barbara was cremated, with no public viewing. Her family and children were able to keep a vigil immediately after her death. Although she did not believe in an afterlife, she took solace in the interconnectedness of all living things.
Her belief that she would live on through her children provided her with a final peace. The RIS Barbara Kimker Fund was established by her family on July 6, 2009.