As you and your loved ones begin this sarcoma journey, we want to let you know that you are not alone. One of the hurdles facing many sarcoma patients is a sense of isolation. However, while sarcomas are rare, many people here in the Midwest have been on the journey that you are beginning. We are here to support and assist you as you confront and conquer this disease.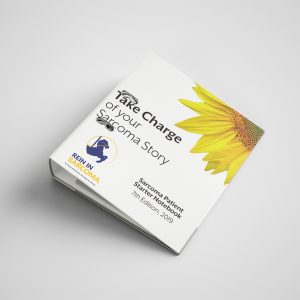 Rein in Sarcoma Patient Guidebook
The RIS Sarcoma Patient Guidebook provides information and valuable resources for the newly-diagnosed sarcoma patient. You can order a paper copy of the notebook or download an electronic copy.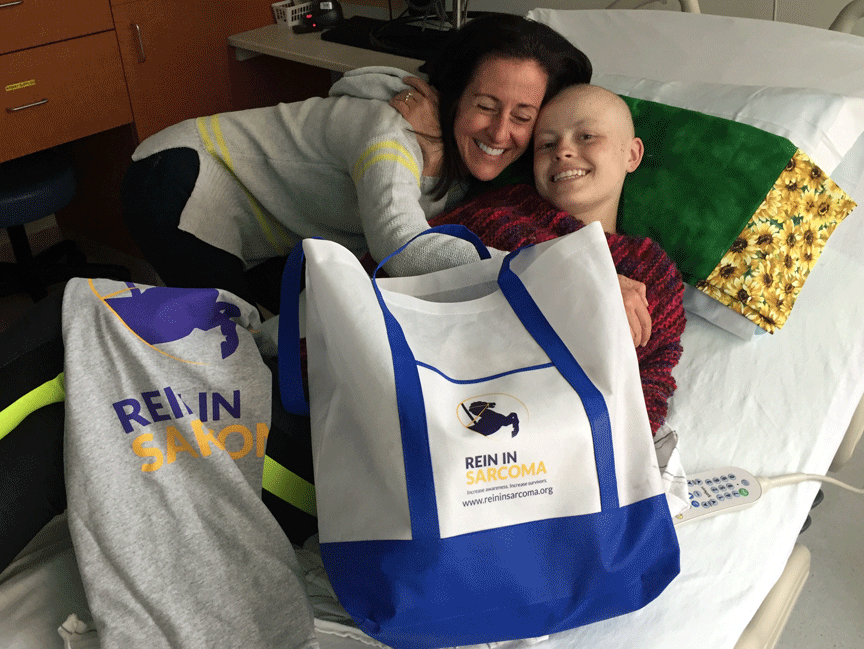 Sarcoma tote bags
The RIS Patient and Family Support Committee, made up of many members who are sarcoma survivors, decided that one way they could help newly diagnosed or relapsed patients was to have gift bags available for hospital nurses to give to these patients to show support in their battle against sarcoma.
Our gatherings are held year-round in the Twin Cities. They are a wonderful opportunity to meet and learn from others who are facing sarcoma. It is also a rare opportunity to get and give support. Our gatherings are free of cost for sarcoma patients, survivors, and their immediate families; as well as for persons who have lost a family member to sarcoma.
Check our calendar page to register for any of the events below:
Caregiver role
A caregiver is someone who provides support and care throughout sarcoma cancer treatment. Caregivers are a crucial part of any cancer care team.
A caregiver can be:
A spouse or partner
Adult children
Brothers or sisters
Parents
Friends or co-workers
Support for Caregivers
Being a caregiver can feel overwhelming. It may help to learn what you'll need to do. You are not alone. Hearing from other caregivers can be helpful to caregivers. Also, taking care of your own health and well-being is an important part of being a caregiver. Rein in Sarcoma provides one-one-one support from peer mentors for caregivers.. 
Caregiver Resources 
General Caregiving Resources 
Learn about what to expect as a caregiver for a cancer patient, as well as suggestions on taking good care of yourself.
Caregiver Support Video Series (cancer.org)
This video series provides educational support to caregivers as they assist with the everyday needs of cancer patients and provide self-care techniques to improve their quality of life. Includes videos on caregiver self-care, lifting patient, pain management, and much more.
Offers counseling, support groups, financial resources and more to people with cancer.
Provides information, support and advocacy for family caregivers.
Free caregiving publications.
Coping With Emotions 
Offers tips to help avoid caregiver burnout.
Mayo Clinic Stress Management Guide
Empowers people to manage their health by providing a unique collection of articles with useful, up-to-date information about strategies for coping with stress.
Communicating Effectively 
Tools to help improve communication.
Provides information to help you communicate with the patient and medical team.
Provides tip sheets on effective patient-doctor communications.
Tips for effective communication with your health care provider.
Getting Social Support 
Offers support groups and counseling for people affected by cancer.
Offers a menu of personalized services and education for anyone affected by cancer. These support services are available through a network of professionally-led community-based centers, hospitals, and community oncology practices as well as online.
An online space where you can connect, share and receive support. It's a personalized "caring" social network.
Support for anyone 18 and older that identifies as male and has provided care for a loved one facing a health crisis.
A nonprofit and the local affiliate of the Cancer Support Community, where everyone living with cancer can come for social, emotional, and psychological support.
Provides an easy-to-use, private group calendar specifically designed for organizing helpers. Everyone can pitch in with meal delivery, rides and other tasks to help life run smoothly during times of medical crisis.
Relax and Recharge 
This 8-minute video features piano music, a candle flame to focus on, and a soft female voice guiding you through breathing techniques.
Search "guided imagery" or "guided meditation" to find various short video clips to help you relax, recharge and get rest.
Sarcoma Caregivers Share Story
Sarcoma caregivers share their sarcoma experience. 
Survivor Video
Hear from sarcoma survivors about their sarcoma experience. 
Sarcoma Treatment Overview
Sarcoma and oncology experts discuss the treatment process for sarcoma, including surgery, radiation and chemotherapy for patients and families, Drew Holm, PA-C, and Dr. Christian Ogilvie, University of Minnesota. 
Sarcoma Overview
Dr. Christian Ogilvie, University of Minnesota, gives an overview of soft tissue and bone sarcomas for patients and families. 
Supportive Care Video
Rachel Miller, PA-C talks about navigating decisions that patients and families may face when diagnosed with a life-altering or life-threatening disease. She explains advanced care planning, code status, power of attorney, etc. Michelle Kolling, founder of HELD and End-of-Life doula talks about grief and end of life support.