Raising sarcoma cancer awareness, leading to earlier and more accurate diagnosis, is a key to the work of Rein in Sarcoma. Increasing awareness will lead to a significant increase in sarcoma survivors.
Red Flags of Sarcoma Program
Knowledge is power. The Red Flags of Sarcoma Campaign educates the public on the symptoms of sarcoma, with the goal of promoting early detection and ultimately saving lives.
Lumps, bumps and bruises: the red flags of sarcoma
Not all lumps, bumps and bruises are cancerous. However, sarcoma is best treated if diagnosed early. Be vigilant, seek help and ask questions.
Be alert to:
Any lump or bump:

that is deep, new or getting larger
that is 1-2 inches large (no larger than a golf ball)
anywhere in your body
whether or not it hurts (not all sarcomas are painful)
Pain

that is not explained by injury or excessive activity
that occurs at night
that persists when resting the sore area
that lasts more than one month
Be sure to seek medical attention if you or your child experiences:
More pain than is expected from an incident.
Pain that doesn't go away despite treatment.
Any areas on the body that should be the same on both sides, but are not.
Discomfort when moving an arm or leg.
A lump or bump that is growing, and may or may not be painful.
Jan Maudlin Sarcoma Scholars Program
The Jan Maudlin Scholars Program awards annual scholarships for medical students at the University of Minnesota and Mayo Clinic medical schools to support Rein in Sarcoma's goal of educating the medical community and public about sarcoma cancers. Thanks to the generosity of Jan and Tim Maudlin, each year new scholarships are granted to three University of Minnesota and two Mayo second or third year medical students.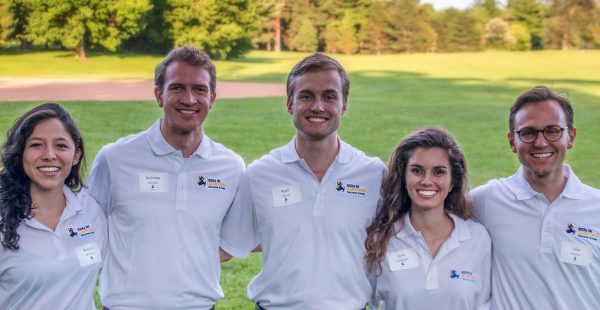 During the year, the scholars participate in weekly sarcoma conferences, research projects, and clinical opportunities. The scholars partner with the RIS Red Flags Education Committee and Medical Advisory Board to play an integral part in the educational effort of Rein in Sarcoma to raise awareness of sarcoma cancers. The scholars organize sarcoma lectures for fellow medical students, as well as becoming actively involved in educational activities geared toward the larger medical community and the general public.
Medical School Education
One of the ways we are raising awareness in the medical community is through lectures and presentations, as well as sharing resources with students pursuing careers in the medical field. Sarcoma experts present sarcoma basics and treatment overviews, while sarcoma survivors share their stories, to students during class lectures.
Accompanying print materials, including additional education resources and course objectives are available by contacting Rein in Sarcoma at (763) 205-1467 or by emailing us at admin@reininsarcoma.org
To request a talk by a sarcoma professional, please follow the link below
For Medical Professionals
Rein in Sarcoma recognizes the importance of raising awareness and providing sarcoma education to medical professionals so early and accurate diagnoses can happen. We provide health care professionals with comprehensive information, research, and resources about sarcoma. Our resources are intended to introduce those who may be the first to see a patient to the warning signs and proper next steps.
Resources:
Explore the About sarcoma, Support, and Research sections of our website to find sarcoma, resources, current research and more.
RIS Sarcoma Patient Guidebook
A resource for newly-diagnosed sarcoma patients and their caregivers.