Type of Sarcoma: Epithelioid Sarcoma
Date of Diagnosis: 2012
Location: wrist
At the age of 24, Aaron Conley spent the majority of his days striving to improve his business, Conley Spray Foam Insulation (located in Albia, Iowa), which he owns and operates with his father and brother. With the little free time Aaron did have, he enjoyed living life to the fullest – spreading his laughter, sense of humor, and light-heartedness. Aaron lived each day on repeat, with little meaning to life. This all changed quickly on March 9, 2012; this would be the day Aaron first heard the words Epithelioid Sarcoma.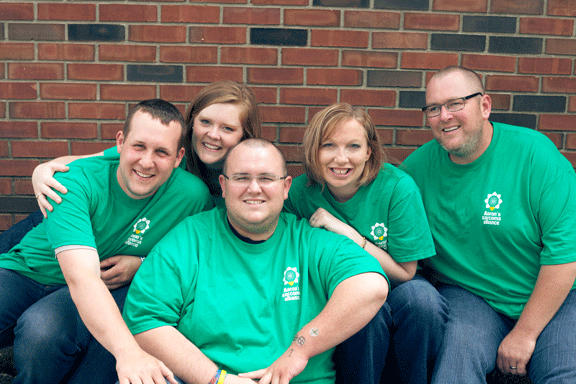 Aaron had had a soft, non-painful lump on his left wrist for what he thinks could have been close to two years. Aaron had always thought that the lump was nothing, possibly scar tissue from an old sports injury, but nonetheless he thought it couldn't be anything serious because it did not hurt and he essentially had no symptoms that would warrant him to think otherwise. Eventually, after the lump was visibly getting larger, his gut was telling him otherwise, and he decided to see his local doctor.
Aaron's doctor was very up front with him and told him he needed to see someone else. Two physicians and two MRIs later Aaron was sitting in the University of Iowa Hospital awaiting a biopsy. Eventually these results would be incredibly painful, yet extremely rewarding.
After six weeks of radiation at the University of Iowa, Aaron was left with the tough decision to attempt to remove the tumor, leaving him with little function of his left hand or to amputate. Eventually, Aaron elected to get a second opinion from the Mayo Clinic. During this time Aaron learned that his best option for overall survival would be the amputation of his left hand starting at his mid-forearm. For many this would be a very difficult decision, but all Aaron wanted was to survive.
Aaron had his left hand amputated June 28, 2012. By June 29, 2012, Aaron was Mayo Clinic's first upper-extremity amputee to be fitted and using a prosthetic immediately following surgery. Aaron had mastered his prosthetic by August and was back to work full time by October, roughly three months after his surgery.
Aaron's faith in God helped him in every step during his cancer journey.  Aaron still continues to spread his laughter, sense of humor, and light-heartedness among those around him.