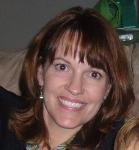 Type of Sarcoma: Leiomyosarcoma
Date of Diagnosis: 2009
Location: uterus
She was born June 5, 1972, our first born. She was christened Andrea Dawn Pomeroy. Many of her friends and family called her Andi, especially when she entered high school. She excelled in high school and was on the honors list throughout those years. She had a passion for dance which began at a very young age and carried that into her adult years as a dance instructor. She attended the University of Minnesota and graduated in four years with a bachelor's degree in sociology.
Shortly after graduation, Andrea backpacked around Europe for six weeks with three very close high school friends and had the experience of a lifetime.
Andrea worked in a corporate environment for several years, but quickly discovered it wasn't her calling. In February 2002, in a leap of faith, she and her mother purchased The Mad Hatter Tea Room in Anoka, Minn. It was a dream they shared and for the next nine years it became a very successful small business. It was a dream fulfilled.
Following is Andrea's story written in her words on her Caring Bridge sight:
"On October 2, 2009, I was admitted to Abbott Northwestern hospital for an emergency hysterectomy. At the time, I thought I had a large fibroid tumor. It turned out to be a high-grade leiomyosarcoma of the uterine tissue, which required a radical hysterectomy. After four weeks of recovery, I started 18 weeks of intense chemotherapy. I finished on February 23, 2010, a very joyful day. I had a clear CT scan on March 30, and was ready to move forward with my life. Unfortunately, I have recently been dealt another blow…."
As you are aware, Sarcoma Cancers are very rare and aggressive and much more research needs to be done to find an end to this very devastating disease.
Andrea passed away on Oct. 28, 2010. She was surrounded by her mom and dad, her brother Ryan, and her sister-in-law Heather. She was loved by all who knew her.
The Pomeroy family have established an RIS Named Fund.