Type of Sarcoma: Telangiectatic Osteosarcoma
Date of Diagnosis: 2019
Location: femur
Diagnosis:
In the fall of 2018, I decided, for what seemed to be the tenth time, "to get into shape!". I wanted to attempt a running program called Couch to 5k, as I had always enjoyed running outdoors. The program is designed to help get most people to be able to run a 30-minute, 5k, within six weeks. By day three however I had developed a familiar ache above my left knee, one that I had previously equated to a good leg workout. I stopped running, waiting for the recovery. It never came.
After four weeks, I turned to stretching and foam rolling daily, by eight weeks I was seeing a sports massage therapist and getting shoe inserts for my flat feet. Week 12 I grew annoyed and had a visible limp. Finally, after 16 weeks I decided to see my general practitioner since my annual physical was due. That appointment set off no alarm bells and I was given a diagnosis of a strained quadricep with follow up physical therapy. However, my gut said something else was wrong and I decided to go to an orthopedic urgent care thinking I had a stress fracture.
Turns out I sort of did, the 4 cm x 2 cm hole in the mid-section of my femur made that clear. Imaging pointed most likely to a benign tumor called an aneurysmal bone cyst, but there was the extremely unlikely possibility of a telangiectatic osteosarcoma. Surgery and a biopsy two weeks later confirmed the 1 in 5 million cancer. I distinctly remember when my orthopedic surgeon called with the news, I blurted out "Well that f#$@ing sucks." Wasting not a single breath they responded empathetically "Yeah, it does f#$@ing suck."
Treatment
Since I had already had surgery and was recovering, chemotherapy started three weeks later. I had a Hickman Line surgically placed on a Monday and by Wednesday started my first round of chemotherapy. I remember thinking after the first infusion of Cisplatin, "this doesn't seem so bad", that of course was the steroids speaking. Ten days, two more infusions and some side effects later, I started forgetting treatment. It's not that I don't remember, but I choose not to. But here is what I like to share.
Hinda Litman, the forever volunteer who was always ready with a hug, cookie and conversation at all of my appointments
The incredibly kind staff at the clinic and in the hospital
My at-home infusion care nurse, who made sure I always had a voice and never gave up
The music therapy and service dogs during my hospital stays
That losing your hair, meant losing all of your hair, eyebrows, lashes and nose hairs included
Being afraid and sharing your fears is okay
Planning your future is okay
Take it one day at a time
Treatment was from March of 2019 to November 2019.
Recovery
I had a second surgery in November 2019 to ensure clear margins on my bone. This surgery replaced half of my femur with a metal implant. Recovery has been harder than anticipated, but is coming along. Plus, I am somewhat of a celebrity at the local clinic when I get x-rays, the technicians love to geek out over my implant and ask lots of questions, which I enjoy.
Every clean scan brings 11 more weeks of relief, with one week of anxiety. My first year of remission has been interrupted by COVID-19 — my wife and I had plans of traveling, that didn't happen. However, each week as I heal, I find I can do more and more. Who would have thought mowing the lawn, painting, installing cabinets, and snow blowing would be so rewarding?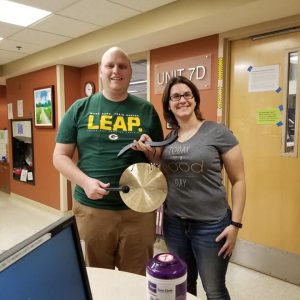 Final Thoughts
Focus on the day. Don't give up hope. Trust your doctors and your instincts during treatment. Don't upset the charge nurse.