Karen Wyckoff was born Sept. 13, 1975.
Growing up in the Minnesota communities of Falcon Heights and Shoreview, and attending Roseville schools, Karen was always involved in many activities, including tennis, soccer, basketball, cross country skiing, piano, violin, and Girl Scouts. In high school, Karen was captain of the cross country ski team, received the Gold Award in Girl Scouts, and was a National Merit Semifinalist.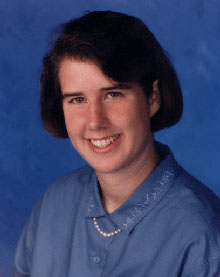 College and a misdiagnosis.
Karen went to college at Willamette University in Oregon, where she continued to be an active member of the campus and community. Karen was always socially conscious, and at Willamette, she was involved in Habitat for Humanity and was an integral part of bringing the AIDS quilt to the campus.
Because of an error in a 1997 biopsy done in Oregon, that said a growth in her armpit was benign, surgery actually spread the sarcoma cancer. Karen knew after that first surgery that her prognosis was grim. She refused to stop living but instead lived more intensely. During the following summer and fall, Karen continued to be active, even while undergoing surgery, radiation, and chemotherapy. She kept her summertime job coaching t-ball and pee-wee soccer, and spent her fall completing Willamette coursework by correspondence.
Through all of this she kept her humor and hope. She called her managing oncologist, Dr. Randy Hurley, "the Quarterback," but she also spent a lot of time doing her own research on sarcoma and treatments. She felt strongly that a patient should be actively involved in their own care. Dr. Hurley was the perfect doctor for her because he encouraged her involvement. She wrote funny descriptions of all of the medical personnel that she met. She wrote a poem Twas the Night Before Chemo. She laughed and joked with her friends to the point that one doctor put in her chart that, the patient and friends were too lighthearted about the situation. Karen was quite amused and said that was the point.
She laughed and joked with her friends to the point that one doctor put in her chart that, the patient and friends were too lighthearted about the situation. Karen was quite amused and said that was the point.
Karen returned to Willamette for the spring semester of her senior year and graduated with a B.A. in political science, with honors. She and her friends found many ways to laugh and enjoy life. At graduation many people including professors were wearing buttons that said "Geesy Cow, You Honkin Weenie Doorknob" because Karen had convinced them all through her Minnesota Nights that we all talked that way. She lived what she believed. Two years later the Willamette Politics Department would recognize that by naming their most meritorious political science major award after Karen. But at Willamette, as always, her most treasured memories were her friends.
Lutheran Volunteer Corps
After graduation Karen joined the Lutheran Volunteer Corps (LVC) for a year. She worked for Legal Aid in North Minneapolis conducting intake interviews with clients and legal outreach, and serving as a legislative advocate for homeless youth. She and four roommates were provided with housing in North Minneapolis, health insurance, and $80 a month for food. Karen and her roommates did much community service outside of their jobs. They also had a great deal of fun proving that you can have fun without money. They ran around the community in Chili Pepper Costumes recording the comments they received. For entertainment they invited prominent politicians and community leaders to dinner to discuss the problems of the poor (and fed them pumpkin curry).
Cancer Returns
In the fall of 1999, Karen enrolled at the University of Minnesota School of Public Health to pursue her master's degree, but she again began to have health problems; the cancer had returned. Karen spent the next two years fighting her battle against cancer, all the while keeping everyone's spirits up (including her own).
She continued to live her life to the fullest, taking part in multiple weddings, celebrating the birth of her niece, visiting with family and friends, volunteering whenever she was feeling well and winning countless SkipBo games. She was a wonderful daughter, granddaughter, sister, aunt, and friend, adding spark, intelligence, humor and support to the lives around her. From her preschool days to her last days, Karen never let anyone forget how much she loved and valued them.
Karen spent her life trying to change the world. She coached little kids, visited the elderly, was a Chemo Angel for a six year old boy, participated in the MS 150 bike ride and MS Walk. Even when chemotherapy made her sick for days on end, Karen kept her sense of humor and her sense of justice. She solicited friends, family, and acquaintances to help her raise money for hunger relief through "Karen's Fasting Service-Using Chemo to fight hunger." People enrolled in the service and sent a donation to either Second Harvest or Oxfam. She earned over a thousand dollars for hunger causes. She figured that as long as the chemo forced her to fast, she might as well help the world!
The first "Rein in Sarcoma Party in the Park", July 2001
Just two months before she died, Karen conceived of and coordinated the first annual Rein in Sarcoma event. The event attracted more than 250 friends and supporters and raised over $10,000 to support cancer research. Karen was always lighting fires within people to encourage them to change the world for the better.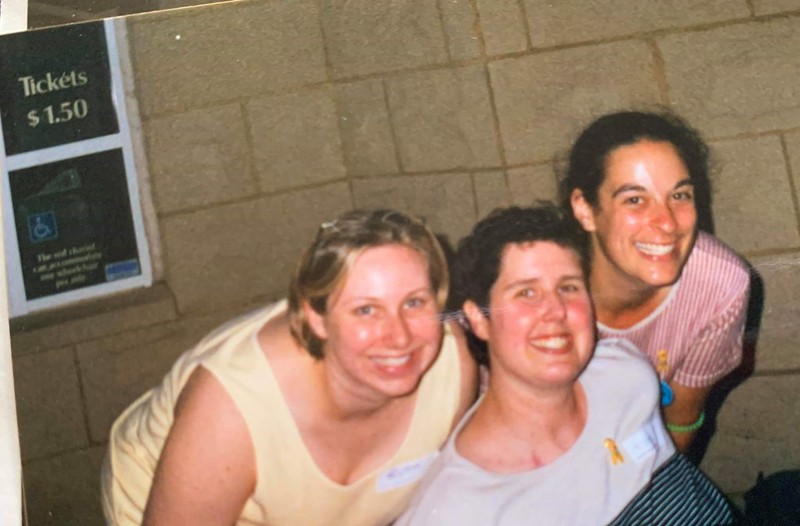 She died in the arms of her parents and brother on August 28, 2001, two weeks before her 26th birthday. Karen was always true to her friends and her values, and her spirit will live on, helping us all to make a difference in the world.
Ten years before her death, she wrote for a Roseville High School American Experience Class:
"I do not know what death is, but someday I too will die.
Hopefully, I will leave behind a better world for my passing.
I hope that when I die,
I will be able to look back on a life that was fulfilling
and was spent living, not waiting to die.
I hope that when the time comes for me to die, I will have learned
enough of the meaning of life to be ready to die."