Type of Sarcoma: Chondrosarcoma
Date of Diagnosis: 1998
Location: pelvis, leg
Sarcoma survivor Theresa Hosfield says that her life since her sarcoma diagnosis has been a mix of tragedy and joy, losses and gains. Cancer forced her to give up many activities and friendships that she enjoyed, but she also experienced growth, new friendships and in her words, "a miracle," during her sarcoma journey which began more than 20 years ago.
Theresa's sarcoma story began when she was a 47-year-old, divorced mother of two young sons. She was physically fit, so when she had intense pain in her interior left thigh she attributed it to a sports injury. However, over the course of a year the pain worsened and after visiting numerous types of healthcare providers, a physical therapist got her attention when he said, "This is not acting like a muscle."
Being a nurse, Theresa insisted on an MRI, which showed a grapefruit-sized tumor in her pelvis. Initially doctors thought the best way to prevent the cancer from spreading was to amputate her leg. Devastated, Theresa considered foregoing treatment—even speaking with a hospice nurse about dying peacefully. However, Theresa had her two boys, ages nine and eleven at the time, to think about.
Even with the decision to seek treatment, Theresa still wasn't at peace with losing her leg. Dr. Franklin Sim at Mayo Clinic was able, through a new surgical technique, to remove all of the cancer and retain her leg. The recovery was grueling, including about five years of rehab—she eventually learned to walk on crutches. Theresa was able to gain back much of her physical capabilities, but still missed all the physical activities and freedom that she had enjoyed. In 2007, Theresa had a metal plate installed in her leg so she could bend it again. Today, Theresa swims every day; she says, "the water is freedom."
Cancer also affected Theresa's relationships. While a few close friends remained by her side, it became difficult for her to go places, and many of Theresa's friends disappeared. Although cancer may have chased away some of her friends, it made her family stronger. Theresa remembers when her son George was twenty, he told her, "Mom, I think I'm a kinder person because you're in a wheelchair." Then there is what Theresa describes as "the miracle." After surgery, Theresa asked her ex-husband if she and the children could move in with him. He said "yes" and took excellent care of her and the boys. He then told her, "I think we should stick together," and they married a second time. Twenty years later they're still happily married.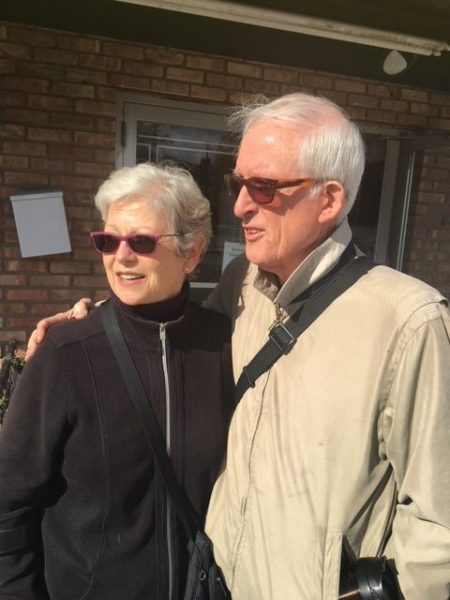 Theresa heard about Rein in Sarcoma when her priest introduced her to another parishioner who also used crutches. It turned out that she too had chrondosarcoma and had read about Rein in Sarcoma on the web. Theresa connected with RIS Executive Director, Janelle Calhoun.
Today, Theresa enjoys an active life of volunteering at a Masonic nursing home with her adorable Pomeranian dog, Lucy. She volunteers because, "I vividly remember the people who visited me when I was hospitalized for six weeks – it helped me through the day. I'm giving back when I visit the elderly. It makes me feel grateful for what I have." Theresa recently agreed to be a RIS patient mentor so she can connect with others affected by sarcoma. Theresa hopes that her story of a fulfilling life after a cancer diagnosis can inspire others.