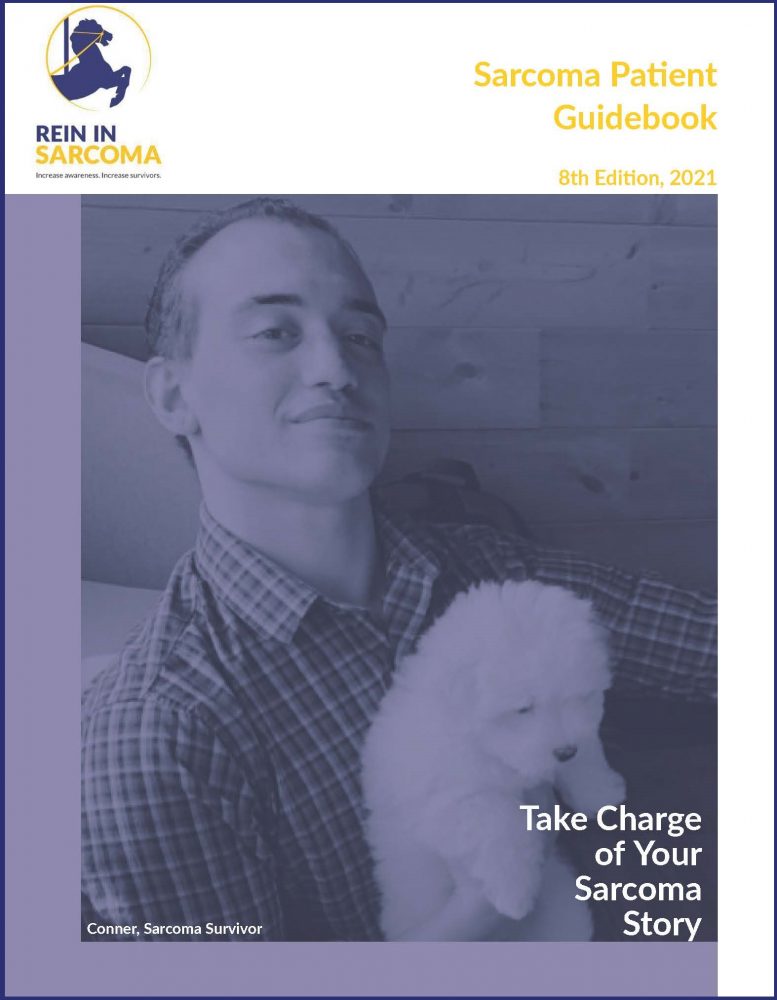 We are excited to share that the 8th edition of the Sarcoma Patient Notebook is now available! The Rein in Sarcoma Patient Starter Notebook has gone through a major update for the 8th edition, starting with the name. This resource is now called Sarcoma Patient Guidebook…Take Charge of Your Sarcoma Story. This title gets to the heart of our mission, to help guide patients and loved ones through a new sarcoma diagnosis. 
This free guidebook includes basic sarcoma information, support resources, and is in an easy to navigate format. For some newly diagnosed sarcoma patients, it may be the first introduction to Rein in Sarcoma, so the guidebook outlines our mission and support services available to patients and their loved ones.
Here are some of the major changes and improvements:
Updated, accurate information on the current knowledge of sarcoma cancer and the many types.
Easy-to-read with a consistent format throughout.
Up-to-date information on treatments, long term follow-up, and resources for support.
Now a portable, streamlined booklet, making it easy to add to existing information
Finally, a huge thank you to the volunteers who were responsible for writing content, editing, and providing feedback: Mel Bassett, Danielle Gerk, Eva Haupt, Val Lopez, Leah Otto, RIS Jan Maudlin Sarcoma Scholars: Guy Guenther, David Supinski and Kristine Nachbor, and project co-leaders: Elsa Keeler, MD., and Yatharth Sharma.
We hope our Sarcoma Patient Guidebook will provide the information and support that sarcoma patients need. You can request a copy by filling out the RIS Support Form or call the Rein in Sarcoma office at 763-205-1467 or 1-844-727-2664.