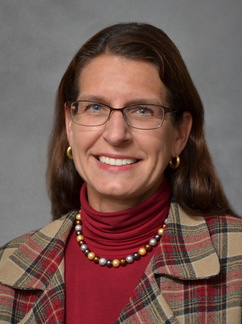 I once heard University of Minnesota Associate Professor and medical oncologist Brenda Weigel referred to as "the hope doctor." It is easy to see why this could be so. Dr. Weigel radiates a sincere and vital hope, fueled by her research seeking better cancer treatments but grounded in her experience treating cancer patients. "Far too often," she has faced situations where there was "nothing else to do" for patients. But she also has seen recoveries in recent years that would have been unimaginable before.
Even more exciting developments are on the horizon. Dr. Weigel would like to recognize the Wyckoff family and all those who have helped Rein in Sarcoma, for the huge impact the group has had in moving the University to develop what is now becoming one of the premiere sarcoma programs in the country.
The Accidental Oncologist
It may surprise you to discover that Dr. Weigel "was not one of those people who knew from the beginning" that she wanted to be a doctor. She was "always interested in lots of things," and chose to major in science in college. While obtaining her Masters degree in nutritional biochemistry, she worked at the Hospital for Sick Children in Toronto, Canada. In the late 1980s, as she pursued her graduate studies, a colleague suggested that she might try medical school instead. Her response? "Are you kidding me? I'd never get in!" But she did apply, and she did get in. Then she turned the offer down, because she wasn't sure she really wanted to go. Dr. Weigel got married, and some time passed, and she began to think: "I may have made a big mistake."
So Dr. Weigel applied again to medical school, and again she was accepted. She said to her husband, "I probably should do this!" Fortunately, then as now, her husband was wonderfully supportive. And so she went.
Dr. Weigel had loved working with children in the Toronto hospital, but she spent most of her time in medical school trying to convince herself that she would do something else. She was interested in "very intense fields" of medicine and had a strong interest in continuing to do cutting-edge scientific research. After she completed her internship, she realized that she had the most fun during her rotation through pediatrics. So she conducted her residency in pediatrics at the University of Western Ontario. She intended to go into critical care, practicing intensive care medicine.
Then, after a few months in an oncology rotation, "this light bulb turned on." Dr. Weigel realized that pediatric oncology would allow her to marry her "love of research" with intense medicine, and also would allow her to develop "such incredible relationships with families," which was something that critical care medicine did not offer.
In this way, an oncologist was born.
Onward, to Minnesota and Sarcoma
Very few options for oncology training were available in Canada, and someone suggested to Dr. Weigel that the University of Minnesota offered what she was seeking. So she and her husband traveled here early one November, when snow already was falling. Contrary to popular belief, Toronto is not quite so freezing as our great state. "The lake effect!"
After her interview here, Dr. Weigel was offered an oncology fellowship with full research funding for three to four years. This research guarantee sealed the deal, and she came in the mid-1990s. Her experience was "really really fantastic."
Dr. Weigel landed in the lab of Dr. Bruce Blazar, a bone marrow transplant doctor who both worked to control immune system response after transplant and also to develop new ways to use the immune system to treat cancer. Dr. Weigel was drawn to solid tumors and particularly to sarcoma. At that time, the scientific literature was just "this black hole" with respect to sarcomas. Work simply was not being done, in this area "so desperately in need of research."
So Dr. Weigel expressed her interest, and Dr. Blazar supported her completely. But she needed to blaze her own trail. She could use the lab resources, but she needed to "literally start from scratch" and figure out how to get it done. One has the sense that this challenge itself was a major draw. After weeks combing the literature, Dr. Weigel found a whole series of papers from the East Coast indicating that a cell line had been developed that could be used for research into rhabdomyosarcoma. She contacted Dr. Robert Evans, the retired man behind this work, and obtained his permission to carry on. He was "just incredibly gracious" and sent her the cells, happy to know that someone would use his work. And use his work, she and her University colleagues did.
When asked about what she is doing now, Dr. Weigel said that all her years in basic science research were "a gateway to bring new therapies to children and adults with cancer." Now, most of her time is spent in early phase clinical trials and translational research, seeking to move new drug therapies out to people.
In talking about the course of her life, Dr. Weigel said she thought it important to "make the most out of whatever opportunity is put in front of you," and to understand that "you never know what that opportunity will be." The understanding she has gained through her work with patients and families has been important in shaping her scientific research. We are thankful that Dr. Weigel has poured so much of herself into both research and treatment, fulfilling a dual role she finds it "so crystal clear" must be played.
Hope on the Horizon
After so many years in the dark ages, it is astonishing to learn that sarcomas finally may be emerging into lighter times. Ten years ago, Dr. Weigel wrote a clinical trial design for young people with rhabdomyosarcoma. There were no new drugs available then; just a plan to deliver old drugs in new ways. In the first 18 months after the treatments were delivered, these changes allowed people to live longer overall and extended the length of time that they lived without return of their cancer. Even if the improvements fade away with more time, this is a great accomplishment. And there are promising signs that the benefits will stick.
Today, scientists have the technologies that will allow them to really study tumors in ways they never have been able to study them before. For example, Dr. Weigel and Bridget Charbonneau, a post-doctoral fellow with her colleague Julie Ross, have combed the tumor bank at the University of Minnesota to identify about 180 patients with synovial sarcoma. About 50 of these patients had good tumor tissue available for testing, and the team is looking for genetic markers that might tell them which tumors are more likely to be dangerous. If they can tell which cancers are more deadly, they can give the stronger treatments to those people facing the most danger. And if they can find the bad actors within the cells, they also might be able to develop drugs specially designed to target the cancer.
As science advances, more targeted drugs are becoming available that may hit the sarcoma tumors in ways that could really knock them out. With great folks like Dr. Weigel using this science, we have reason to hope.
When asked for her final thoughts, Dr. Weigel wished to highlight the impact that Rein in Sarcoma have had on the specific research in the field of sarcoma at the University. This, she said, "can't go unrecognized." She considers RIS to have been "a huge impetus behind what is now becoming one of the premiere sarcoma programs in the country." This has been "spearheaded by the Wyckoffs," and is an "incredible testament" to them and to the whole group of volunteers who have offered their talents and dedication.
By Christin Garcia