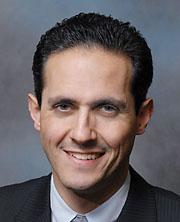 University of Minnesota Associate Professor and orthopedic surgeon Christian Ogilvie chose medicine so he could practice science, while working directly with people. He likes teaching people, educating patients. And he likes to fix things. He appreciates the chance to make a big difference in someone's life, in a moment. To restore them, perhaps, to what they could do before.
Dr. Ogilvie has been a great asset for RIS. He has embraced our education mission: teaching residents about sarcomas, speaking to medical students through the RIS Maudlin Sarcoma Scholars Program. Dr. Ogilvie has also served in the RIS Board of Directors.
Family Beginnings
Christian Ogilvie's father was a doctor. A spine surgeon, who spent years at the University of Minnesota and operated on many people with scoliosis. Even as a high school student, Dr. Ogilvie was drawn to the chance for sudden change. To take a crooked spine and make it straight, all in one setting.
In college, Dr. Ogilvie had the opportunity to do service work. He found it "really rewarding to work directly with people," and he wanted to include this type of feeling with his professional work. He liked science, and decided medicine would be a great career. He returned to Minnesota to attend medical school here, at the University.
Before and during medical school, Dr. Ogilvie worked in Dr. Clohisy's lab. Through this work he became interested in tumors. Although he considered pediatric medical oncology for a time, ultimately Dr. Ogilvie wanted to "intervene directly." He liked performing surgical procedures, and he wanted to take the cancer out. So he took his residency in Orthopaedic Surgery, then a fellowship in Musculoskeletal Tumor Surgery at the University of Toronto.
Geography
Upon completion, Dr. Ogilvie moved to the University of Pennsylvania, where he was an Assistant Professor and a surgeon. He developed a busy practice, focused on tumors. In one single year, he saw 400 individual cancer patients.
When Dr. Clohisy was becoming Chair of the Orthopaedic Surgery Department at the University, he called to recruit Dr. Ogilvie back to Minnesota. In 2009, Dr. Ogilvie returned. He had met his wife here, and the two of them felt this was a good place to raise children.
At Minnesota, Dr. Ogilvie's practice still involves tumors. He focuses on sarcoma, but does other things as well, including major trauma. He drew many connections between the two. Like sarcomas, fractures can occur anywhere in the body. Both trauma surgery and sarcoma surgery may involve bones and joints. And, you will not be surprised to hear that trauma surgery calls to Dr. Ogilvie because it offers the chance to take a crooked, broken bone and straighten it out, all in one setting; to place a plate on it; to help it heal.
You may be surprised to learn that unlike many other tissues in the body, bone really can heal. Cleanly, completely, and without a lot of scar tissue getting in the way of good function. If the conditions are right, if you give it enough time, bone will replace itself and be almost like new. Often, people can go back to doing just about everything they were doing before, because their bone will go back to doing what it was doing before.
Education
Medical students and residents may not get much education about sarcomas, even today. Through his practice, Dr. Ogilvie has seen the patients who don't get diagnosed. Sometimes, an incomplete surgery by a non-cancer specialist will require a second revision surgery, bigger than it would have needed to be.
Dr. Ogilvie talks to people about sarcomas. He has presented at Grand Rounds for medical students twice, through the Wyckoff Sarcoma Scholar program, and expects to do this again. He speaks to orthopedic residents about sarcomas, since people will show up in their offices with lumps and bumps and pains. Most will be benign and harmless, but some will be cancer. He wants people to consider the cancer, before they cut.
Patients, too, need education. Teaching people is nice to do.
What is hard?
The hardest thing about Dr. Ogilvie's job "is probably telling someone their kid has cancer. That's difficult." The parents are kind of helpless, and they have so many questions. Most times, they worry a lot. The second hardest thing? Telling someone they have metastatic disease. The third? Telling someone they have cancer.
It is rewarding, though, when you have the ability to tell people you can take out the cancer and they'll be fine. When you can "educate them a little bit, make some plans" and attack the tumor. Or when a person has pain from cancer in their bone, and has trouble walking, and surgery can help them feel better. When you can "help out with the quality of life."
There are lots of opportunities for constructive outcomes. Sometimes, these come in surprising forms. Allowing someone to go home, for even a few days, may be a victory.
We are thankful that Dr. Ogilvie has decided to embrace these challenges, here.
By Christin Garcia