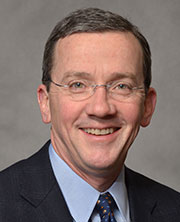 Orthopedic surgeon Dr. Denis Clohisy saves lives. With a world-class multidisciplinary team at the University of Minnesota, he is working to save more. RIS funding provides a creative spark and a vital source for a "hopeful research culture" at the U, which may one day contribute badly needed treatment advances for sarcoma. For now, each day, the University team provides outstanding patient care, in an environment enriched and energized by RIS.
Dr. Denis Clohisy has been treating sarcoma patients for 20 years. A surgeon who joined the University of Minnesota Medical School faculty in 1991, Dr. Clohisy was named Chair of the Department of Orthopedic Surgery in November 2007. With a world-class multidisciplinary team, Clohisy is leading efforts to develop better treatments for patients who have sarcoma cancer. These treatments are badly needed, as can be seen in the persistently hard survival rates that accompany some diagnoses. Yet one young woman who lost her life to sarcoma started a revolution, here in Minnesota. Her spirit of hope, her wish for community, can be felt every day. Rein in Sarcoma (RIS) has grown from its small beginnings in 2001, just months before Karen died, to become an important spark for creative ideas, hopeful energy, and inspired patient care at the University.
Have you ever seen the sunflowers? At any event hosted by RIS, gorgeous cloth flowers mark the survivors. At the Party in the Park celebration each July, the sunflowers are out in force. Asked how it feels to see so many people walking around who are there because they have been treated at the University, Dr. Clohisy said this picnic is "the most rewarding day of the year" in his professional life. He loves to have his own children join him there, to see the impact his work is having on so many other lives. The children he has treated hold a special place in Dr. Clohisy's heart. So, too, do the families who have lost someone to sarcoma. To see their willingness to participate in the organization, despite their loss; "it's really inspiring." And hopefully this means the family believes their loved one received the best care possible, even though they could not be cured. This picnic is a very special thing.
Asked about the impact RIS has had at the University, Dr. Clohisy discussed the practical support for research, at a time when it is extremely difficult to get funding. By providing money that allows researchers to test their ideas, a necessary first step before they can seek large-scale funding from major organizations, RIS has created "a hopeful research culture." RIS also has created a culture of scholarship, research and energy that has drawn more people to the field. More doctors are treating sarcoma patients, more scientists are researching sarcoma cancers, and the team works together more collaboratively to share and develop ideas. This is really important. The young post-doctoral scientists dedicated to sarcoma research, in particular, may be the ones who discover breakthrough treatments. Ten years ago, there were not graduate students who knew much about sarcomas or cared to focus their research in the field. This has changed.
University scientists are succeeding, as measured by publication of their work in leading scientific journals and by research funds granted, including a large grant from the prestigious National Institutes of Health. Cutting-edge genetic research takes place at Minnesota, enabled in part by RIS investments.
Yet the most important impact RIS has had goes way beyond this funding. The education and support for patients who otherwise would feel extremely isolated; the collaborative energy among the medical team; the hopeful research culture? All created through RIS. As Dr. Clohisy observed, "If you think about that, it's quite impressive." Dr. Clohisy joined the RIS Board of Directors in January of 2017.
You who are reading this article may have a deeply personal understanding about the value RIS brings; the special collaboration between RIS and the University of Minnesota; the need for medical advances. We hope you will continue to support this work with your time, your energy and your financial resources.
We also hope you will continue to share your smiles with other families who face sarcoma. You do remember, how much those smiles can mean?