Kris Ann P. Schultz, M.D. shares insights into sarcoma research and treatment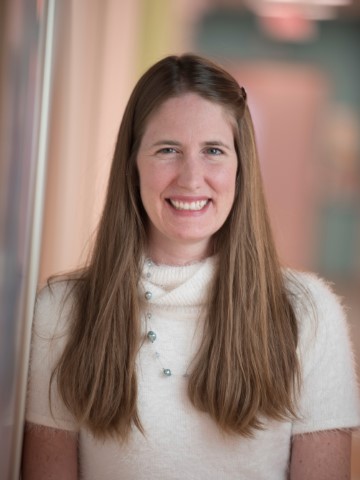 Researchers are making progress, with Rein in Sarcoma's help, in the quest to understand, treat, and prevent sarcoma. Kris Ann P. Schultz, M.D., a pediatric oncologist with Children's Minnesota, has been involved in both clinical care and research for many years. A recipient of Rein in Sarcoma research grants in 2019 and 2021, Schultz has been working to improve outcomes for children and adults with DICER1-related cancers through early detection and the development of more effective and less toxic therapies.
Rein in Sarcoma recently connected with Schultz to learn more about her work.
RIS: What questions about cancer do you most often get from patients and families?
Schultz: Patients and families often ask how they can help. It's inspiring to me that so many families, in the midst of their challenging journeys, also consider how they can contribute to research to help others.
One suggestion is to work with your medical care team early on and ask at the start, throughout and at the end of treatment, if there are any studies you should know about or that you could consider joining. Talk with your doctor and research team.
When families first think about cancer research, they often think about clinical trials, where the treatment that someone receives is based on a study protocol. Those are really important studies that may offer access to novel therapies, so it is important to discuss these with your health care team as you consider whether this type of study is right for you. There are also other forms of clinical research in addition to clinical trials. You can participate by sharing tumor tissue or blood samples or sharing clinical information in a registry or a natural history study. Tissue-based research allows scientists to study how particular cancers may be vulnerable to new treatments and registry and natural history studies are valuable as well, especially in rare cancers as researchers can use these databases to track outcomes over time and look for patterns.
RIS: How does genetic testing help the patient?
Schultz: Genetic testing, broadly, can mean two different things, testing the person and/or testing the tumor. Testing the person, usually though blood or saliva testing, is also called "germline" testing and this can help individuals and doctors understand why a tumor developed and whether the individual or family members have any increased risk for tumor development.
Knowing your family history can make a difference when it comes to advocating for yourself and your loved ones.
In our DICER1 research, we have seen the tremendous impact of this kind of genetic testing. DICER1-related tumors may be hereditary. Knowing your family history can make a difference when it comes to advocating for yourself and your loved ones. Our motto here is 'knowledge is power' — which clearly applies to DICER1 related cancers and many other forms of cancer as well.
It is also now possible to test the tumor itself, to look for changes in the tumor cells, generally not found in the person, that may help to guide treatment options. We're at a very exciting time in oncology where this kind of germline and tumor testing can inform surveillance for early detection and novel treatment options, but we still need lots more research to determine how best to implement all of this.
RIS: What are the main areas of focus in your current research?
Schultz: We're trying to optimize treatment for all DICER1-related cancers both using strategies available now and also considering potential strategies in development. We also want to understand how best to detect tumors in their earliest and most curable form and trying to develop better ways to measure tumor response to treatment.
This is an exciting time for research. Researchers in general are learning how to harness the patient's immune system and the unique changes within tumors and we'd like to better understand how this applies to pediatric cancers. This is a broad effort by many people, but each breakthrough contributes to what we know and can advance clinical care.
RIS: How did the COVID-19 pandemic affect your research, and sarcoma research in general? Did research slow down?
Schultz: During the pandemic lockdowns, there were limits on the number of people who could work in labs but on the bright side, the emerging use of web conferencing made it easier to connect globally with other researchers.
There is a broad base of international participation in sarcoma research. Web conferencing has really advanced our internationally collaborative efforts and brought researchers together globally.
RIS: How did you get involved in research?
Schultz: My road to research really started with clinical care. As a pediatric oncologist, I care for kids with cancer and blood disorders. There is no better motivation than these kids and their amazing families to drive advances in care. Plus, kids (and their parents) ask the best questions which really spurs research forward. The clinical side really informs the research, and the research informs clinical care — the best synergy!
RIS: What do you most want people to understand?
Schultz: Everyone's efforts make a difference. Each part helps, whether it's sharing your genetic or clinical data with a registry, participating in a study, or getting involved through philanthropy.
I like the phrase: Learn, connect, consider.
Learn about sarcoma cancer and your family history. Connect with a support network, medical care and researchers. Consider how you can get involved.
In particular, we've found that the samples collected early in a cancer journey are so critical to research. Iin those early stages, there's so much yet to be determined and so it can be challenging to get those samples into the hands of researchers who are working on those topics.
The earlier the conversation begins, the more likely it is that critical data will be captured and routed to researchers who can work toward answering the next big research question. Now that awareness of sarcoma cancer has grown, it is my hope that we'll be able to create those connections earlier as each tumor is discovered and treated.
RIS: Thank you for sharing your time with us today. As an oncologist and researcher, you bring hope to many. Rein in Sarcoma is honored to support your work .
___
Kris Ann P. Schultz, MD, is a pediatric oncologist and Pine Tree Endowed Chair in Cancer and Blood Disorders Research and also serves as Scientific Director of Cancer and Blood Disorders at Children's Minnesota. Dr. Schultz is the Principal Investigator for the International
Pleuropulmonary Blastoma (PPB)/DICER1 Registry and the Principal Investigator and founder of the International Ovarian and Testicular Stromal Tumor (OTST) Registry. Her current research focuses on improving outcomes for DICER1-related tumors. Dr. Schultz joined the Hematology Oncology program at Children's Minnesota in 2008 and has particular interest and expertise in the care of children with pleuropulmonary blastoma, ovarian tumors and other rare childhood cancers.
Rein in Sarcoma and research
A major component of Rein in Sarcoma's mission is to fund research directed toward developing new treatments and finding cures for sarcoma cancers. Since our inception in 2001 RIS has funded nearly $2 million to sarcoma research projects, primarily at the University of Minnesota, with an expansion to the Mayo Clinic and Children's Minnesota in 2017. These research dollars in turn have resulted in additional grants totaling over $13 million in public and private funding to date.
For more information on Dr. Schultz's Rein in Sarcoma research grant projects see:
2021 RIS Research Grants Awarded to Children's Minnesota and Mayo Clinic
2019 Research Grants-Mayo Clinic and Children's Minnesota
---