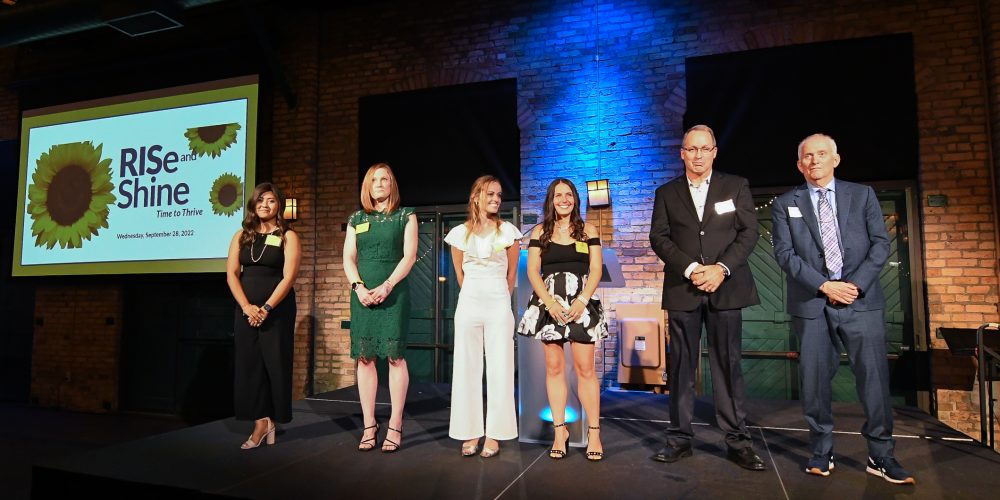 Over 250 attendees were witness to the beauty and tribute to those who have left us far too soon, and the energy and inspiration of the Thrivors among us… those who have survived and thrived. From the motivating words of keynote speaker, Mark Herzlich, who overcame sarcoma to become a Super Bowl champion, to Thrivors from all walks who took the stage, or sat throughout the room, one could feel hope and possibility fill the Nicollet Island Pavilion… from every heart to the rafters. All this was set with warm lighting, beautiful sunflower and rose centerpieces donated by Ruth Bachman, and accompanied by music by Ben Cook-Feltz and his combo.
In addition to exceeding expectations for fun and meaning, RISe and Shine was the most successful fundraising event to date, with over $220,000 raised. Rein in Sarcoma is grateful to our event sponsors, SpringWorks Therapeutics, Oppidan, Ryan Companies, Anderson Construction, CBRE, and Stagetime Productions. And, thank you to Polaris' Slingshot Division for delivering excitement to the night, and the speaker to the stage. Special thank you to event chair, Julie Mead, and all of the wonderful volunteers who helped make the event a success.
Thank you to all who attended this fun event. We look forward to seeing you again next year. And, for those who could not be with us this year, we will save room for you.