Type of Sarcoma: Spindle Cell Sarcoma
Date of Diagnosis: 2020
Location: Spine
Christian lived an active life of adventure and nature. Give him an open road, State or National Parks and a timeframe and he would plan the most amazing adventure. His life plan included traveling to all the National Parks, usually planning the next trip on the way home from the current one. He would have loved to live on the open road, seeking adventure and beauty. There was no corner of this planet, no plant, no animal he did not want to see and experience.
Christian's greatest loves were his family, nature, biking, camping, travel and adventure. He was a lifelong learner; his knowledge of plants, animals, nature, science, history and geography were seemingly limitless. He never failed to jump in a lake, grab a ball to play catch, discover a rustic road, kayak in a new area, take the jump on his mountain bike, or catch and release critters with his kids.
Christian's diagnosis of Spindle Cell Sarcoma came in August of 2020, after progressively painful back and leg pain. His active lifestyle was slowed, but it wasn't until his leg gave out on him while walking that we knew something was in need of urgent attention. Chiropractors and physical therapists had provided no help with the back and shooting nerve pain, so Christian had a semi-emergent MRI on August 13th, 2020. The images came back showing his spine lit up with tumors. "Cancer" was a blindsiding word, and it set our lives on a new path.
The orthopedic clinic helped arrange care with top orthopedic oncologists, who in turn arranged care with a top sarcoma specialist. Despite receiving amazing, aggressive and compassionate care, Christian's was diagnosed at Stage IV, and all treatment plans were palliative. Our kids were 7 and 9 at the time of diagnosis, and Christian fought for every second of the seven months and two days he lived after first hearing the word "cancer."
Treatment included implantation of a pain pump in his stomach that delivered continuous morphine via catheter to his spine, major surgery to debulk the spinal tumors in the hope of reducing pain and prolonging the use of his legs; multiple chemotherapies (infusions and oral), immunotherapy and radiation. The only treatment that had any impact was Votrient, however it was far too damaging to his liver to continue. Through each and every attempt, every treatment, Christian stayed resilient and hopeful. He was fighting for time with his girls, time with his family, and time on this amazing planet he loved so much.
Being the strongest man I have ever known, Christian continued to plan trips with our family, including our annual trip to Sanibel in December 2020. We spent time together, with Christian sharing this special place with his brother and sister for the first time. Not every member of his family was able to be there, but they were there in spirit, and we treasured having this time together.
Christian had other trips in mind, and made reservations for hotels and campgrounds for us over the winter, spring and summer. He was able to join in on one more trip to Grand View Lodge in Brainerd in February 2021 to celebrate our oldest daughter's tenth birthday.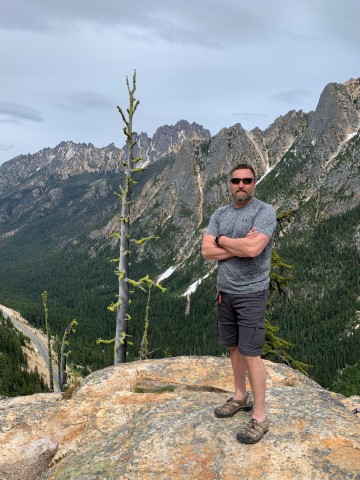 With every ray of sun, every rustle of leaves and grass, every mountain vista, spray of ocean, sanctuary of a forest, we feel Christian with us. We choose to live life in honor of Christian, in honor of all the people who have lifted and supported us. Honor Christian by heading outside: camp, bike, kayak, hike, or just sit quietly in the wonder of nature.