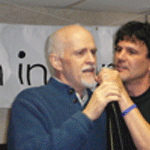 Type of Sarcoma: leiomyosarcoma
Date of Diagnosis: 2008
Location: abdomen
In late September 2008, Jerome Detviler a 34 year teacher and coach at Park High School in Cottage Grove was diagnosed with leiomyosarcoma (LMS).
An extraordinary benefit was held to honor Jerry and to help raise awareness for this debilitating form of cancer. Jerome, being the man that he is, wanted all the money raised to be donated to the Rein in Sarcoma Foundation. He has always been a believer in doing good things makes you feel better. The foundation is committed to the advancement of sarcoma research, education, and survivor support. Best of all they are based right here in St. Paul, MN.
The Benefit took place at The Red Barn (VFW) in Cottage Grove. It seemed like the whole town turned to the event in support of not only Jerry but his entire family. Over 800 people attended the event, which proved to be a homecoming for so many of Jerry's friends, colleagues, students and admirers.
The event included a Meal; Silent Auction with over 100 items; and Live Musical Entertainment provided by Bridges Over Chamberlain and others. Overhead was cut to the bones as most of the items, including the food, was donated by friends and businesses in the community. In a huge show of support for Jerry and his impact on the lives of hundreds of others, the event raised over $10,000 for Rein in Sarcoma.
LMS is a cancerous tumor of the smooth muscle. As in Jerome's case, most occur in the abdomen. Generally, tumors inside the abdomen are surgically removed. The site, size, and extent of the tumor determine the type of surgery performed. Leiomyosarcomas of organs in the abdomen may also be treated with radiation and chemotherapy.
Rein in Sarcoma thanks Jerry and the hundreds of people who volunteered and attended this wonderful evening.
Jerome continued to reach out to people and to encourage them to support cures for sarcoma cancers by establishing the RIS Jerome Detviler Fund. To contribute, please select "Jerome Detviler Fund" from the drop-down menu on our secure donation page.
Jerome died from Sarcoma on January 2, 2012. He will be deeply missed by his family, his friends and the RIS community.