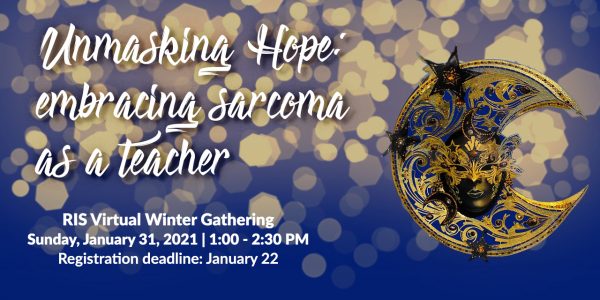 This year the Winter Gathering focused on community member connectivity. Forty-eight people registered for our virtual January 31, Rein in Sarcoma Winter Gathering: Unmasking Hope: Embracing Sarcoma as a Teacher.
Board members, Lisa Griebel and Michelle Kolling, led us with candid insight through a thoughtful discussion of what sarcoma teaches us. Participants connected in small group virtual breakout rooms and shared their experiences in a safe and supported way. There were many positive responses from participants. If you were unable to join us, we've included a video of the program below and on our YouTube Channel. We extend our deep appreciation to program facilitators, Lisa and Michelle!
Lisa Griebel, M.Ed., is Principal of Crescendo Inc. She has over 30 years of experience in training and organization development, marketing, product development and strategic business planning. Lisa is also a 15-year sarcoma survivor.
Michelle Kolling is an INELDA-trained end-of-life doula and founder of HELD. While serving as a caregiver to her husband, who died from Ewing Sarcoma in 2011, she came to understand the transformational possibilities of being deeply present in the end-of-life experience.