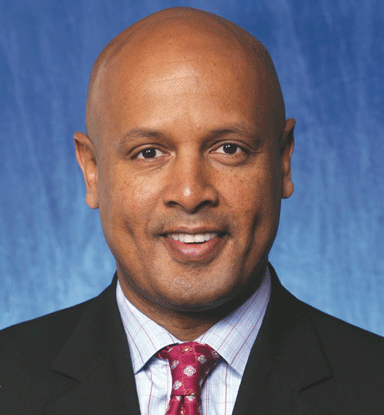 Dr. Felasfa Wodajo was "humbled and honored" by our request to interview him, because he finds that "actually, it is the patients fighting sarcoma who are the real stories." An orthopedic oncologist, now is a member of Virginia Cancer Specialists. He has lead the Musculoskeletal Tumor Program at Virginia Hospital Center. His Oncology Nurse Coordinator meets with patients and families, and likes to refer them to support groups and resources. She found the RIS Sarcoma Patient Starter Notebook on line. As Dr. Wodajo recalls, those books "lit us up" and they began offering the books to their patients. Some patients became so moved they decided to give back to RIS, and a great connection has been strengthened.
A long and winding road
Dr. Wodajo emigrated to the United States from Ethiopia in the fifth grade, and his family moved to the Washington DC area, where he now lives. He loves Ethiopia, which is a beautiful country, and recommends the book "Cutting for Stone." There is a huge Ethiopian community in the DC area, which still includes many from his family.
His Minnesota ties? His wife was adopted into a second family while waiting tables as a teenager in Minnesota, then completed nursing school in the area. They have returned to Minnesota many times for family visits. "It doesn't get any more Minnesota than that!"
He loved studying biology in high school and college, so thought he may become a scientist. The year after he graduated from Princeton, he immersed himself in a lab. He says it was "intellectually interesting but not for me." He felt lonely and bored by himself all day, not interacting with other people.
He decided to go another way. At the University of California, San Francisco School of Medicine, as is typical, he rotated through many different fields of practice. As a medical student, "you sample everything." In the end he decided on general surgery, and went into residency for this. He decided he preferred orthopedic surgery. A good choice, as it happens. Dr. Wodajo liked orthopedic surgery then, and he still loves it now.
During his orthopedic residency at Howard University, he rotated through many different practices within that specialty. Oncology grabbed him then. "Something lit up."
Looking back, this makes sense. Orthopedic oncology brings back that biology interest. The way cells behave "makes enormous differences in outcome for patients." It also presents interesting challenges. But it still maintains the mechanical aspect of orthopedics during reconstruction surgery, when doctors think about forces and vectors.
A really important part
But a primary reason Dr. Wodajo keeps doing this work is the person part of it. For this part of a person's experience, orthopedic oncologic surgeons have a really important part. The way they do their work makes such a difference. Doing something big is not always best, and sometimes the most important job a doctor has is to hold back unnecessary or unhelpful interventions.
Sometimes, he says, "we do a great job, patients have great outcomes, and we feel like walking on water." Yet one of the families most dear to him is the kids of a man who died of sarcoma. He was an "incredibly intelligent, remarkable man" with no good treatment options, and he and his family needed wise guidance as they navigated this path.
One thing doctors must do is to talk with patients and families about the hard news of sarcoma. Doctors need to be blunt, conveying information in a way that they are not lying about a person's condition or chances. But "there is a very long distance between blunt and harsh." It is important to understand that "statistics are not predictive, they're only descriptive." Statistics like survival percentages are a piece of information, but people should know "it may not be as helpful as you think it is." The true reality is the wide variation in different people with unique circumstances who have individual outcomes.
In the broadest sense, it is challenging to make the right decision, to know what to do. There are many options, and it is frustrating that there is so much room for the options to improve. Doctors who treat sarcoma patients wish they had better techniques, better implants, better chemotherapy. They wish they could do more. But it isn't helpful to say that to the patients who sit in front of them.
I told Dr. Wodajo he could say it to us, because we at Rein in Sarcoma are well enough aware of the limits, but also are invested hopefully in changing the future.
Raising awareness
In the Washington area, orthopedic oncologists don't see very many cases where a general surgeon has operated on a sarcoma without knowing it. He's not sure why, but said "I'm happy about that."
Perhaps one reason is an oncology review course Dr. Wodajo has presented annually for the last twelve years. Each class reaches 20 to 30 orthopedic residents in the region, and "each of those is a multiplier," going out into the world to share their knowledge. A spark for the future: perhaps it would be important to reach general surgery and family practice residents too, because they may present the first contact for patients, but may not encounter sarcoma more than once or twice in their career.
As we know, each contact is important. Each moment may be sacred. So we very much appreciate teams like this Virginia team and leaders like Dr. Wodajo. Thank you for this work!
By Christin Garcia