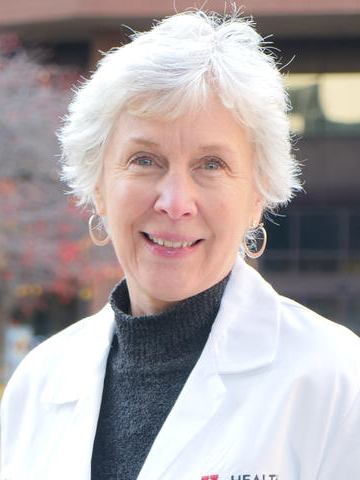 University of Minnesota Professor and Radiation Oncologist Katie Dusenbery has been involved with Rein in Sarcoma from the start. After all, she tells us, "Karen was my patient." She appreciates the support RIS provides for her other patients and looks for ways the physicians can say thank you in return. A founding board member, Dr. Dusenbery has focused on the education aspect of RIS' mission.
She loves introducing medical students to oncology. Each time she does, there is "one more person who knows how wonderful cancer patients are."
After completing a residency at Michigan State University, Dr. Dusenbery came to Minnesota for a Fellowship in Medical Oncology. She switched to radiation oncology for a time, not intending this to be permanent. She discovered a whole different aspect of taking care of patients that she really liked, and decided to stay. In 1990, she took her first staff position at the University of Minnesota. She has served as Head of the Department of Therapeutic Radiology since 1999 and now is recognized as one of the Best Doctors in America in her field. As she talks, one understands that Dr. Dusenbery has a passion for the clinic; she really cares for her patients, and she wishes to train new doctors who will do so, as well.
The rigorous, multi-disciplinary work in an academic medical center always called to Dr. Dusenbery. She can't imagine practicing any other way. As you may know, there is a good deal of "gray" when it comes to treating sarcoma cancers. It is easier to make decisions in collaboration – and also fun.
When she began to treat patients with sarcoma cancer, there were no other radiation oncologists specializing in the area. Dr. Dusenbery gravitated to these patients, who often were young, and saw this as a great opportunity for her future work. Although she now shares sarcoma patients with Dr. Chinsoo Cho, who she recruited to her program several years ago, Dr. Dusenbery still treats patients. Especially the kids. With pediatric patients, the first challenge is to see if you can avoid having to give radiation at all. Because their bodies are still growing, their cells can be more vulnerable to radiation damage. They also have much longer lives ahead of them, making the risk of secondary cancers that can develop as a side effect less tolerable. If radiation really is required, "you try to limit the dose as much as you can."
Just what does a radiation oncologist do? Long-term follow-up with patients, for one thing. "I love that." But first, they design the radiation field by drawing on a scanned image, slice by slice, to show what areas should be treated and which should be avoided. Dosimetrists and medical physicists help to translate these instructions before the machine is powered on and the precisely targeted beams are delivered. Sounds like Star Wars to me. And there is a lot of art involved. Decisions must be made based on imperfect data. Doctors must balance the goal of controlling the cancer against the desire not to cause harm. One of the most difficult aspects of Dr. Dusenbery's medical practice is when a patient's cancer comes back, or a patient experiences a bad side effect, and "you second guess what you should have done."
Teaching others how to navigate these challenges is another great part of Dr. Dusenbery's job. She loves seeing a resident start out not knowing what they're doing, then learn, then go out and do well in practice. "When they become a really good doctor." Teaching doctors how to treat patients well "can make a difference for a lifetime."
The oncology patients, in particular, have spoken to Dr. Dusenbery. Cancer is "an advanced course in living" and it is really an honor and a privilege to be on the journey with them. One family she joined for the journey was Karen Wyckoff's. Karen was "such an incredibly wise beyond her years young woman" and it was really fun knowing her. Dr. Dusenbery was a founding Rein in Sarcoma board member. One has the sense that she will stay connected for as long as she is welcomed. And she seeks good ideas, including ideas about how the physicians can thank the group for all the patient support services it provides.
This wish led her to begin the Mini Medical School, which was presented by UMN doctors for several years. Offering families, volunteers and donors the chance to learn about sarcoma, up close and hands-on, the Saturday morning affair was been a big hit with those who've attended.
Dr. Dusenbery began the Rein in Sarcoma Scholar program in 2009 (now the Jan Maudlin Sarcoma Scholars), connecting medical residents with the University's sarcoma team. The scholars coordinate an educational presentation about sarcoma to other medical students, increasing the chance that if they encounter a sarcoma cancer in clinical practice, they will actually notice the signs and respond appropriately. The Jan Maudlin Sarcoma Scholar program offers another benefit: there is "one more person who might become an oncologist."
We thank Dr. Dusenbery for her long and inspired service to RIS.
By Christin Garcia