Type of Sarcoma: Chondrosarcoma
Date of Diagnosis: 2013
Location:
Laura was born to parents, Alan V. and Linda J. Zeccardi in Poughkeepsie, N.Y., on Jan. 5, 1985. Laura moved to Chatfield in 1988, attended Chatfield Public Schools, and graduated from Chatfield High School in 2003. She graduated from Macalester College in 2007, and New York University in 2009. Laura worked at the Minnesota Historical Society as a Program Specialist for the History Day Program.
Laura loved her family. She loved her friends, she loved education, she loved her work, and she loved exploring, teaching, and preserving moments in history. Laura was an originator and a caretaker. She loved cultivating plants and raising animals while absorbing, engaging, and capturing the seasons she treasured at her homes. She loved to be in the kitchen. Laura loved to knit endless skeins of yarn for her and others to sense the enthusiasm, kindness, and warmth of something made with her mind, her hands, and her love. Her personality, her thoughts, her ideas, and her beliefs were contagious and everyone who was lucky enough to be a part of her life was forever influenced by her compassion and willingness to listen and advocate.
Her voice, her knowledge, her smile, her sense of humor, her passion, her creativity, her persistence and her desire are a small handful of her characteristics that will be missed. Knowing Laura was an honor and a privilege that is unable to be expressed in words. Laura was, and will continue to be, encompassed with love.
Over five days in February 2013, University of Minnesota physicians discovered that Laura had an undetected bone tumor that ultimately triggered a blood clot into her lungs. Laura died peacefully early Sunday morning at the U of M hospital while she was being comforted by her family. The family in particular is appreciative of the care Laura received from Dr. Christian Ogilvie and the wonderful staff on the 7th floor at the University of Minnesota where she was being cared for.
Laura's father shared that her work at MHS brought her tremendous joy as she "was doing the work she was born to do." Laura grew up in Chatfield, Minnesota, and began participating in History Day as a 6th grader. She is one of the few students who participated in the program in every year she was eligible and went on to represent Minnesota at the national competition multiple times. "Laura was a 5 baby" commented her dad, "Born on the 5th of January in 1985 at 5:05 AM. She died on February 24 at 12:55 AM".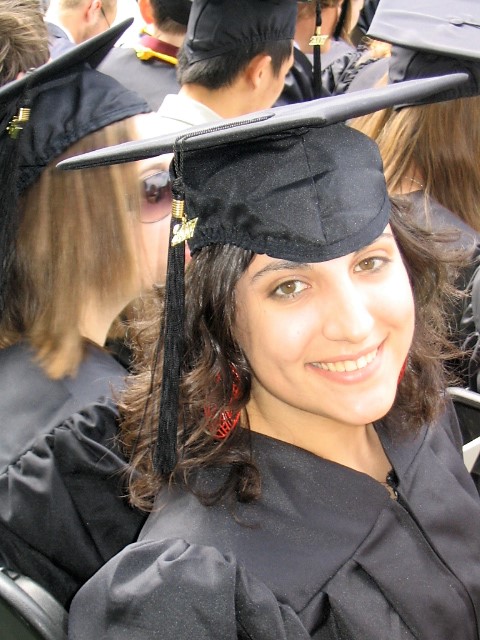 As a student at Macalester College, Laura served as a History Day intern and eventually joined the Education Outreach staff after completing graduate school at NYU. Laura excelled at providing classroom support to students and teachers and, most recently, was responsible for coordinating the expansion of student research support services at public and university libraries. Thousands of students have benefited from her dedication to share the love of learning that she experienced through History Day.
Out of their love of Laura, her parents Alan and Linda have established the RIS Laura Joanne Zeccardi Fund. In setting up the Fund, her dad commented: "Laura was driven to live out her dreams as independently as she could. She understood the value of friendships and practiced a responsibility of being considerate of those people less fortunate than her."