By Nikki Littlefield Miller
David Supinski's interest in medicine began as a teenager in the operating room.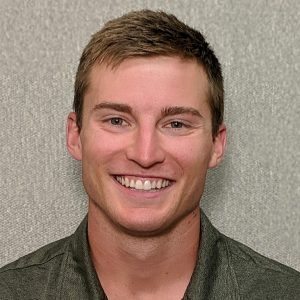 As a gifted high school athlete he ran cross country and track in a small town near Brainerd, MN, but suffered hip injuries due to anatomical joint issues. On both legs his femur and hip socket bumped into one another, damaging and tearing cartilage until he was left with bone-on-bone in his hip joints. An orthopedic surgeon corrected the issue and David made a full recovery, successfully completing his high school athletic career and competing in the NCAA throughout college and his first year in medical school at the University of Minnesota, Duluth Campus.
After his surgery in high school, David shadowed a local orthopedic surgeon, launching his interest in the field. He tailored all future educational decisions towards the goal of entering medical school. Along the way he's explored multiple areas of medicine, but always came back to orthopedics. And because knowledge of sarcoma is critical for orthopedic surgeons, he applied to the Jan Maudlin Sarcoma Scholars program.
I've been given not only the knowledge and ability to speak about sarcoma cancer, but also the responsibility to advocate for increased awareness.

David Supinski, Sarcoma Scholar at the University of Minnesota, Twin Cities
David and his fellow sarcoma scholars learn about sarcoma cancer early in their medical education and carry it with them throughout their careers, becoming lifelong advocates for sarcoma awareness. "I'm leaving the program feeling empowered and prepared to raise sarcoma awareness forever, no matter what I end up doing. I've been given not only the knowledge and ability to speak about sarcoma cancer, but also the responsibility to advocate for increased awareness," he says. In fact, David has already seen awareness grow during his tenure in the program, as students, providers at all levels, and friends and family are interested in learning and talking about the disease. He finds it encouraging that sarcoma is a frequent topic of conversation among different groups.
David's conclusion of this year's program marks a meaningful milestone for Rein in Sarcoma, as he is the 50th medical student educated through the Jan Maudlin Sarcoma Scholars program since its inception in 2009. While he maintains that the 50th position in the program was simply luck of the draw, he appreciated the honor of delivering a thank you speech to Jan Maudlin at the online Rein in Sarcoma 2020 Fall Fundraiser. In that speech he thanked Jan for her passion for students, community, and education, stating, "Your investment in us as scholars allows us to provide strong sarcoma leadership and share the information that will bring benefits to patients for years to come."
This summer the torch was passed to the next group of Sarcoma Scholars at the University of Minnesota and Mayo Clinic Alix School of Medicine. David confirms that the program is "a great opportunity for immediately being connected to faculty, learning opportunities, and research projects—as well as working on practical skills like communication and seeing things from a patient's perspective." The incoming cohort of students will, like David and the 50 scholars before them, enhance their education with an understanding of sarcoma and a commitment to increasing awareness.