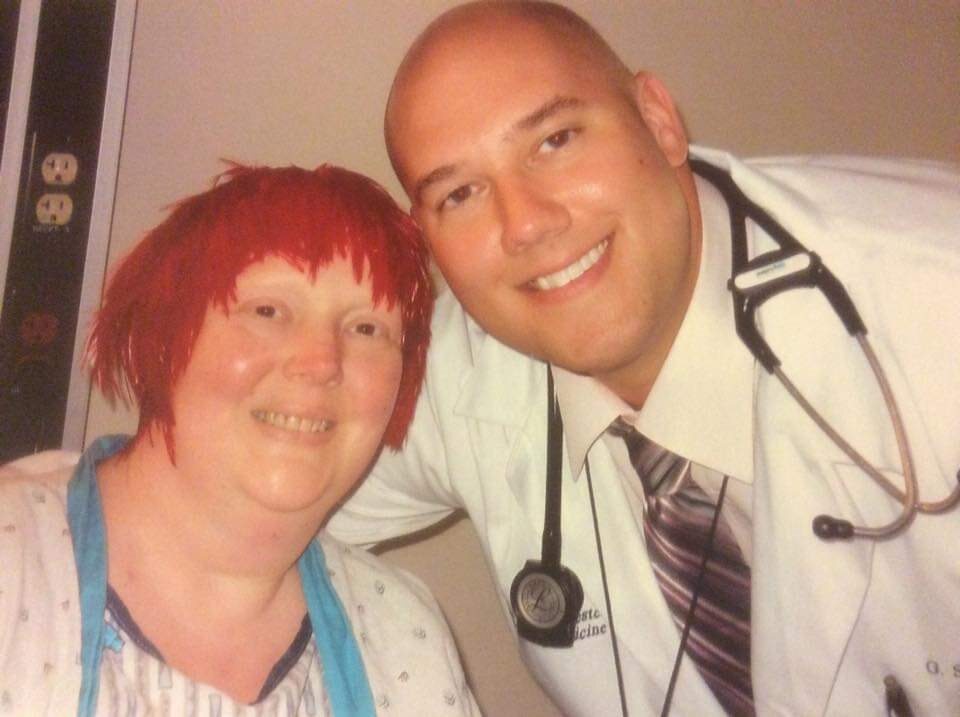 Jennifer, my older sister and best friend, was diagnosed with Stage 4 Leiomyosarcoma on January 13, 2005.   After suffering for years with multiple female issues and switching doctors because she felt like they weren't listening to her, she was told she needed a hysterectomy.   
When I took her to the hospital that day for this routine surgery, I never dreamed of what would happen.  A very large tumor was growing inside her uterus.  It was Leiomyosarcoma, something we had never heard of.  Her surgeon was not able to remove it all and Jennifer was referred to Mayo Clinic for follow up. About six weeks later, she had her second surgery at Mayo to remove the remainder of the tumor, including intraoperative radiation therapy.  She still had not recovered from her first surgery, and I remember watching her sleep in the hospital, thinking how sick she looked.  Soon after, chemo needed to begin.  Again, it seemed too soon.  Her six-month scan at Mayo looked promising and we were cautiously optimistic that the cancer was gone.  Unfortunately, about a year later, another tumor was detected on a scan which required another surgery, radiation and further chemo.   
After she got through those surgeries and treatment, there were good years. She enjoyed spending time with her friends and family. She was a theatre major and loved going to plays and movies. She was in an improv group called "Three Months To Live." (The name is ironic, but the group was formed BEFORE she got sick.) She enjoyed her book club and had a vast array of friends. I loved bringing my two young daughters to her condo to swim in "Auntie's Pool" on warm summer days. She was the fun aunt who never had children of her own, and she loved her four nieces with all her heart. Things were getting back to normal.
Jennifer was turning 50 in October 2011. We wanted to do something big, so we planned a girls' trip to Mexico. I had noticed on our days hanging out at the pool that summer that she had noticeable swelling in her right leg. She said it was nothing and would change the subject when it was brought up. When our cousin, who is an RN, came to visit, she told her that if she didn't get herself into the doctor she would bring her. Jennifer knew deep down what it was – her cancer was back. Her condition continued to get worse to the point where she could barely walk. She wanted to go on that 50th birthday trip so bad – she held out until the day before we were scheduled to leave before we cancelled.
A scan revealed there were multiple tumors throughout her body and surgery was no longer an option. She had such terrible back pain from her tumors that, for weeks, she was unable to lay down and would sleep sitting up. That resulted in horrible wounds on her heels and legs, and she spent an entire summer in the hospital and nursing home/rehab center. When we saw her oncologist, she recommended reading two books about dying. Jennifer did not take that advice; instead, she made an appointment with Dr. Keith Skubitz at the U of M. He recommended a last resort chemotherapy that Jennifer's oncologist advised against, where Jennifer would check herself into the hospital for a 7-day chemo regimen, followed by one day of IV fluids. Jennifer went through this chemotherapy regimen for the last two years of her life.
By this time, our parents from northern Minnesota moved in with her. My family's efforts to care for her were not enough – I had a full-time job and a family. Before Mom and Dad came down to stay with her, my girls and I would visit Jennifer every weekend. I would prepare freezer meals for her and my young girls would help with cleaning and laundry. We were able to keep that schedule going for quite a while, but the warning signs were very clear – most of the food I had made was going untouched and she was no longer able to take care of herself. Jennifer was not able, or interested, in going out to the movies or a restaurant like she used to. Mom and Dad became invaluable, bringing her to her appointments, mom cleaning and cooking homemade meals daily, and Dad's positivity and gift of gab – always telling us that things would get better no matter how bad they were.
It was a rollercoaster those last two years. Going in for chemo, getting so tired and weak that she could hardly walk, and then bouncing back enough to enjoy life for periods of time. She was feeling so good by the summer of 2014 that she put her condo in Edina on the market and bought a one-level townhome in Blaine, within walking and bike riding distance of our house. Jennifer wanted her independence back so desperately. She had been unable to drive for quite some time due to limited mobility on her right side. She had her car altered and installed an accelerator for her left foot. She was so determined to drive again that she took driving lessons, practicing using her left foot. She still needed help getting down the steps of her condo, as she used a walker. But she was able to go places on her own again. She wanted Mom and Dad to be able to go home and get their lives back. With her being closer, I could check in on her after work and the kids could ride bike over there after school. And, even with her walker, she could go places now that she wouldn't have to maneuver the steps.
We didn't realize how quickly her health was taking a turn. By the time she moved in October 2014, she was so weak she couldn't do much except sit and rest. One night shortly after she moved in, I was at her townhome for dinner and she announced that she made an appointment to go back in for another 7-day chemo treatment. She was so weak at that point she could hardly stand up. I told her I wouldn't take her. Her response was she would just get a ride with someone else. We went in for chemo that Monday and I visited her again the next night. We had a good night – taking a short walk down the hall, eating ice cream cones, and talking about my girls' volleyball season.
The next day, I got a call from one of the nurses. Jennifer would not wake up. Two days later, on Friday, we were prepared to order tests and a spinal tap to find out what the problem was. Her doctor took us aside and asked if she had shared her latest scan results with us. Her cancer had spread throughout her body and she kept it to herself, determined to keep fighting. Her doctor told us she didn't want her to wake up, because the only thing left for her was pain and suffering, and she didn't want to have to tell her there was nothing more they could do. We canceled all tests and had all the tubes removed. We welcomed visitors at the hospital all weekend. Jennifer loved being around people. Even though she remained asleep, we knew she could hear us. When my girls came to visit, she reacted by opening her eyes briefly and lifting her arms. On Monday, we moved her to hospice and she passed the following Friday, November 7th, exactly one month after her 53rd birthday, with Mom, Dad, my sister Michelle and I standing at her bedside. She only lived in her new townhome 10 days.
Jennifer fought hard for nine years. She refused to listen to the doctor during one of her hospital stays who told her she would never be able to make it up the steps to her condo again (she did make it). In fact, she told that doctor to get out of her hospital room. She refused to read books about dying. She refused to even read the paperwork given to us in the hospital, explaining what Leiomyosarcoma was. After one of the several times that she lost her hair (she eventually started shaving her own head), she posted on her Caring Bridge site that she was having a contest and wanted everyone to send her a bandana or scarf. She received several dozen bandanas and scarves, which she preferred wearing over wigs. Our cousins later made three quilts for us out of them! She wanted to focus on living. She amazed me with her strength and humor and the hope she held onto right up to the end.
Her absence has left a gaping hole in my life. I have tried to fill it with other things and the emptiness remains. For the last year and a half, I have been a Rein In Sarcoma volunteer. After every RIS meeting and event, I feel inspired, grateful and truly cared about, and that helps to fill that hole.
Kim Murden