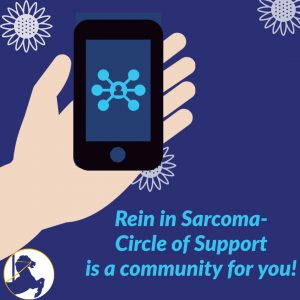 Looking for additional support through your sarcoma journey? Join the Rein in Sarcoma-Circle of Support private Facebook page.
It's designed to connect sarcoma patients, survivors, and caregivers within the Upper Midwest region and provide support, share knowledge and experience, and raise awareness and advocacy.
Community Guidelines:
Members are encouraged to share their sarcoma experience, ask questions, share resources, and find support from those who have been through similar experiences.
We ask that the group remains private — please don't share posts outside of the community.
While anyone can find the group and see page members, only members can post and see others' posts and comments. Posts will not show up on your personal Facebook page.
To request access:
Go to the Rein in Sarcoma-Circle of Support page and answer a couple of questions.