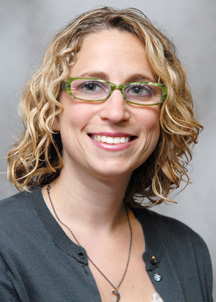 Emily Greengard is a Pediatric Medical Oncologist at the Masonic Cancer Center and Assistant Professor at the University of Minnesota. Dr. Greengard has become involved with the RIS Medical Advisory Committee so central to the work of the Red Flags team. Passionate about treating her patients and having the opportunity to combine her practice with research in an academic environment, Dr. Greengard says "it's nice to wake up every morning and think there's nothing else you'd rather do."
A two-part focus
Emily always knew she wanted to be "a doctor treating children," but did not begin with the idea that her work would be with cancer patients. During her Pediatric Residency at Children's Memorial Hospital and Northwestern University, she rotated through the children's oncology practice. There, she "just fell in love with the patients." She really appreciated the interpersonal relationships that can be developed with patients and their families.
Dr. Greengard knew she wanted to practice in an academic environment, because she wanted some component of her career to be research. She is intrigued by the cancer disease process, with so many incredible research opportunities to advance the field and improve treatments.
Minnesota, and sarcoma
As she completed her Hematology/Oncology Fellowship at the Children's Hospital of Philadelphia, Dr. Greengard became more and more fascinated by solid tumors, and then by sarcomas. As many of us know all too well, so much more progress is needed to improve outcomes and decrease the toxicity of treatments for this cancer. Dr. Greengard would like to contribute to this advancement.
A lifetime resident of the Midwest except for her time in Philadelphia, Emily was happy to come to Minnesota. When she learned of the job opening, she felt it would be "perfect" for her and "a really great fit." Offering an academic environment and the opportunity to practice with "grounded, supportive people" who have been successful in building their own practices, she expected it to be a great environment to start her career.
Working with the Red Flags
In 2012, Dr. Greengard joined with Rein in Sarcoma after spending time at the Sarcoma Corner during the annual Party in the Park event. Since that time, she has been active with the Medical Advisory Committee, a group of physicians from the University of Minnesota and Children's Hospitals and Clinics of Minnesota. Together these doctors meet with members of the RIS team to develop materials and design programs to educate both lay people and professionals.
Missed diagnosis and delayed or inadequate treatments are still all too common with sarcoma. The Red Flags team is working to improve these odds.
When asked what is surprising about her work, Emily said: "How incredibly resilient people are." No matter what their background, people rise to the occasion and find a way to get through the situation. She said she's "always so amazed" at how families do.

And we thank Dr. Greengard for her energy, enthusiasm and fine contributions. We hope her practice will go well here, so she may stay in Minnesota for a long time.
By Christin Garcia