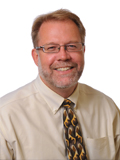 Dr. Randy Hurley is a hematologist/oncologist at Regions Hospital and Medical Director of HealthPartners' Cancer Care Program. He has been involved with Rein in Sarcoma since its onset. He was Karen Wyckoff's medical oncologist and attended the very first RIS event with her. He has since attended nearly every Party in the Park and maintains a close relationship with Pete and Sue Wyckoff.
Dr. Hurley graduated from the University of Wisconsin – Madison with an undergraduate degree in Pharmacy. Before and during medical school, he worked as a clinical pharmacist on the hematology-oncology ward at the University of Wisconsin. He completed his internal medicine residency and chief resident year at UW as well. During this time, he was involved in basic science research on extracellular matrix proteins.
In 1991, Dr. Hurley came to the Twin Cities, where he completed a hematology-oncology fellowship at the University of Minnesota and spent an additional year investigating hematopoietic stem cell adhesion to extracellular matrix proteins. He has been at Regions Hospital for over 20 years, the past nine of which have been spent as the Medical Director of HealthPartners' Cancer Care Program. Dr. Hurley also holds a special interest in global health. He is board-certified in tropical medicine and has had an ongoing health care project in Tanzania for 15 years.
Early influences in his career drew Dr. Hurley towards a career in hematology-oncology. Working with cancer patients, he says, is both an art and a science. His career provides both inspiration and challenge on a daily basis. According to Dr. Hurley, because sarcomas are so rare, many primary care physicians may not be familiar with how they present. This poses a unique health care challenge.
Dr. Hurley is leading a RIS pilot project at Regions Hospital and HealthPartners to increase awareness of sarcoma cancers among medical providers with the goal of significantly reducing the amount of time between the onset of sarcoma symptoms and a proper diagnosis. As a part of this effort, he is heading up a RIS Task Force with Robert Gao, 2016-17 Sarcoma Scholar; Brittany E. Mathews, Senior EPIC Specialist for HealthPartners Oncology Service Line; Tim Michalski, CEO of Point of Care Decision Support, Jay Syverson, President of Point of Care, Decision Support; Christian Ogilvie, MD, RIS Board of Directors; Pete and Sue Wyckoff. The Task Force is seeking to develop an electronic medical record alert to help Primary Care Physicians to recognize and appropriately evaluate suspicious soft tissue masses at an early stage. This pilot project is a key part of the efforts of the RIS Hallie Anne Brown Educational Initiative.
By Robert Gao, 2016-17 Sarcoma Scholar