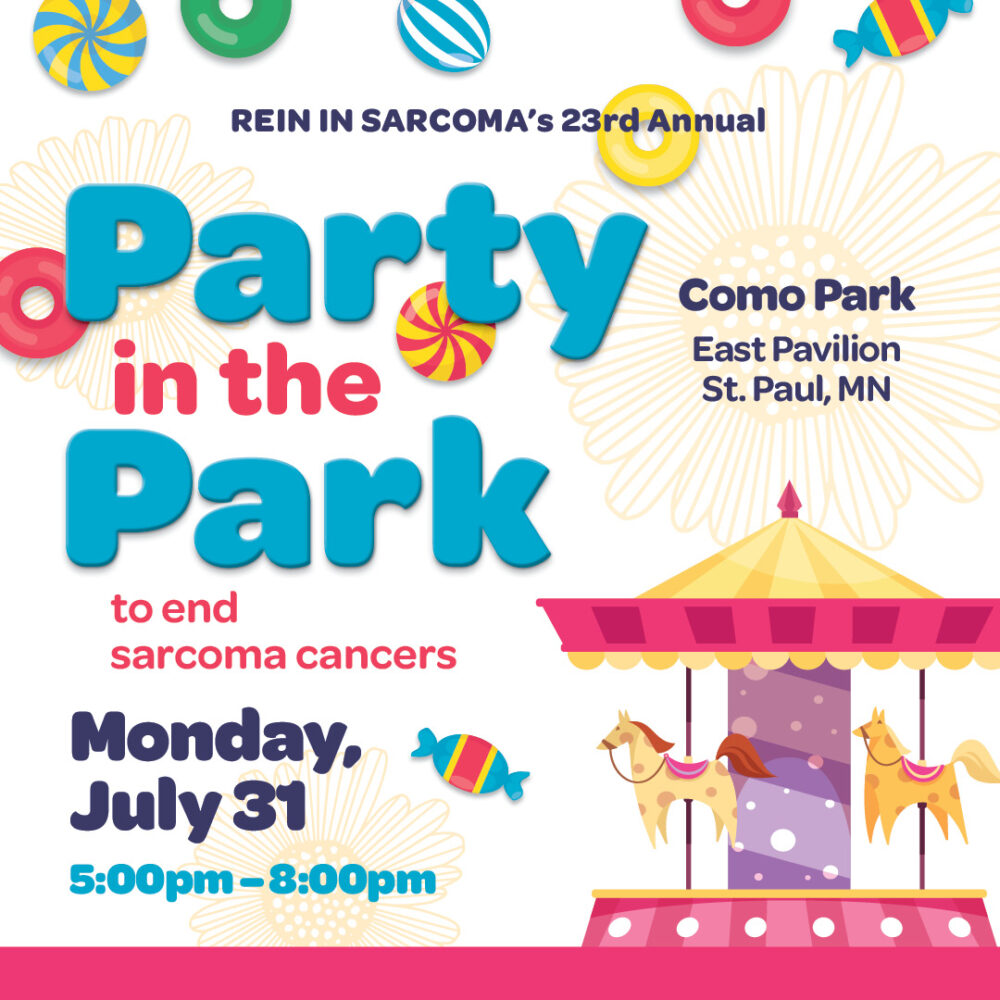 Join us on Monday, July 31 for Party in the Park. The free event will include patient and family picnic, live music, inflatables, community, sarcoma resources, and more. Registration is required, If you can't attend, consider donating.  
Event info:
Monday, July 31 from 5pm-8pm
As our signature event, attendees will have the opportunity to connect with others impacted by sarcoma and come away with a sense of community that is united to fight this disease. There will be an opportunity to network with sarcoma experts and researchers to learn about sarcoma treatments and discoveries. The "party" provides an opportunity to learn more about sarcoma cancer research, patient support, and education, as well as enjoy children's activities, entertainment, free carousel rides, silent auction and much more. The Party in the Park is a public event so invite your friends to join you. The event is free, but registration is required: Party in the Park Registration 
PARTY IN THE PARK ACTIVITIES:
Community Picnic (free to sarcoma survivors and loved ones, as well as those that have lost a loved one to sarcoma)
Inflatable, Airbrush artist, Balloon Artist, etc.
Live Music
Silent Auction
Survivor Tribute Carousel Ride
Free Carousel Rides
RIS Merchandise
Non-profit education and information booths
EVENT SCHEDULE:
5:00-8:00: Picnic and Community Gathering (enjoy a meal at the time of your choosing-free picnic supper to registered sarcoma survivors, family members, and those that have lost loved ones to sarcoma)
5:00-8:00: "Party" is in full swing including: Inflatables, live music, silent auction, free carousel rides, etc.
5:40: Opening ceremony/remarks from Lachelle Semanko, RIS executive director and sarcoma experts.
6:00: Processional to Carousel and Survivor Tribute Ride
You must pre-register (free picnic box supper provided) – spaces limited. Registration is now open. Registration for Party in the Park, which follows immediately, is included when you register for the picnic.
We need your help!
Silent Auction
Items for our silent action are desperately needed. While any donations are welcome, a few ideas include:
Gift cards
Handmade items
Furniture and home décor
Home improvement and contractors' services
Landscaping and yard care services
Garden centers and suppliers
Game stores and game companies (fun family night basket theme idea)
Grocery industry and stores
Liquor industry and stores
Pet industry
New this year, we have a special opportunity for friends and family of sarcoma patients to contribute to the auction for Party in the Park and Fall Fundraiser. There is a new auction category reserved for items that have been donated in honor or memory of individuals who have experienced a sarcoma diagnosis. The idea is that the item would represent the individual and his or her interests. For example, a basket of Twins gear for a Twins fan, a set of knitting needles and yarn for a knitter, a coffee mug and coffee for the coffee lover, or even a gift card to someone's favorite restaurant. We encourage you to get creative!
Find more information: 2023 Silent Auctions Need Your Help – Rein in Sarcoma
Volunteers
We are looking for volunteers for the day of the event, including set up, tear down, and assisting with the activities. Sign up to volunteer ar Party in the Park For more information, email Nancy nancyhris@gmail.com