Medical research is like a 1,000-piece puzzle. Researchers craft studies to discover new pieces, advances in other fields contribute additional information, and organizations like Rein in Sarcoma provide support to fuel the work. The sarcoma puzzle is not yet complete, but there are exceptional people at the table working towards improved treatments and patient outcomes.
Brandon Diessner, Ph.D. candidate at the University of Minnesota, is one of those people—and he's no stranger to complex problems. As an epidemiologist and experienced statistician, he digs into giant batches of data to learn why diseases occur in different groups of people. And, fortunately for us, he's putting his skills to work for sarcoma, alongside his mentor of six years, Dr. Logan Spector.
Brandon may be early in his career (he will receive his Ph.D. at the end of this month), but he has already amassed an impressive record of sarcoma research. His latest work—featured in the August issue of the Journal of the American Medical Association—investigates why some patients already have metastatic disease by the time they are first diagnosed with sarcoma. The team hypothesized that delays in diagnosis could be at fault, but there might be other factors involved, such as age, race/ethnicity, or genetics.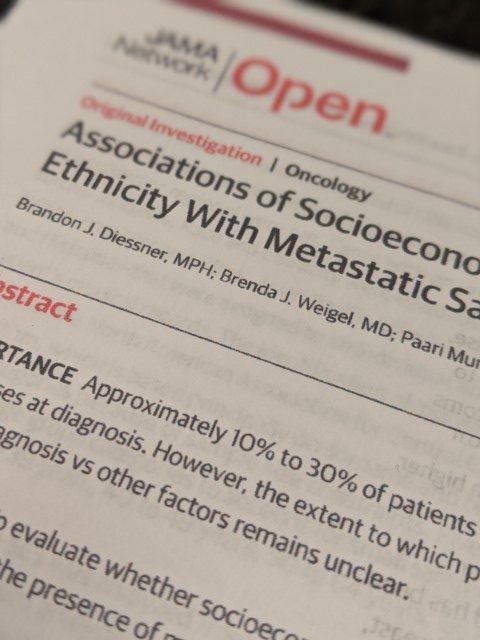 The team analyzed cancer and census data from more than 47,000 soft-tissue and bone sarcoma cases. While overall socioeconomic status did not seem to have an impact, they found that patients with either no insurance or Medicaid insurance were more likely to have metastatic disease by the time they were diagnosed with soft-tissue sarcoma—suggesting that insurance challenges may create delays in healthcare that give some sarcoma sub-types more time to spread.
The study also revealed that Black adults were more likely to have metastatic disease when first diagnosed with leiomyosarcoma. This is consistent with previous DNA studies that suggest genetic factors likely influence how aggressively some sarcoma subtypes progress. Brandon and colleagues plan to follow this path in their future research, with the goal of better understanding what leads to the development and spread of sarcoma at a genetic level.
In addition to designing his own studies to further the field's body of knowledge, Brandon is frequently recruited for his skills as a statistician. He recently analyzed data for a HealthPartners and University of Minnesota study that evaluated a new sarcoma alert system for primary care physicians. The alert is triggered when a physician encounters a soft-tissue mass that is deep, large / enlarging, or painful, and recommends an MRI to check for possible sarcomas. And it works: nearly 20 MRIs were prompted as a result of the alert, and four malignant or potentially malignant tumors were found. Because many physicians are unfamiliar with sarcoma cancer (encountering perhaps one or two cases throughout their career), this alert mechanism could help detect the rare disease sooner and save lives. Researchers envision implementing the alert system in medical record systems across Minnesota, and, eventually, the nation.
Researchers like Brandon are discovering key pieces to the sarcoma puzzle, and Rein in Sarcoma is grateful that young, talented minds are focusing on this rare disease. Our community continues to come together to support sarcoma research and work towards better detection, improved and expanded treatment options, and a cure.
Brandon Diessner will receive his Ph.D. in Epidemiology at the end of this month and will continue exploring how genetics predispose people to develop osteosarcoma and Ewing sarcoma at the University of Minnesota. He lives in Shoreview with his wife, MacKenzie, and their first child, a son who they welcomed in July. When he's not analyzing copious amounts of data, you might find him hiking with his dog and family or exploring new restaurants or breweries in the Twin Cities.
Nikki L. Miller is a freelance writer based in Minneapolis.