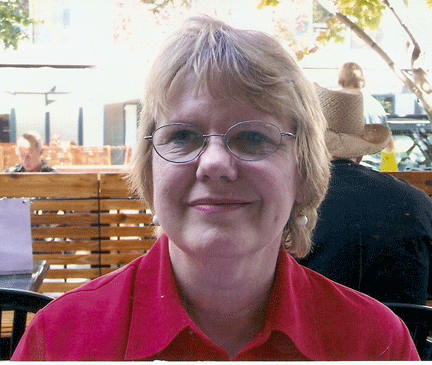 Type of Sarcoma: Adenosarcoma
Date of Diagnosis: 1997
Location:
Elinda Wing, 59, a nationally respected social worker who helped improve the lives of thousands and raised awareness about issues faced by mature workers, passed away from Sarcoma Cancer June 3, 2009, in Twinsburg, Ohio. Wing, who colleagues described as a gifted counselor, touched everyone she met, and dedicated both her distinguished professional career and her personal life to improving the lives of others.
"She was a special person with a humble spirit," said Stedman Graham, who worked with Wing in the latter part of her career. "Elinda traveled with us to many locations, and as she helped us to impact the lives of young people, she served as a great support to me. I will never forget her many encouraging words. Her positive energy made a difference for each of us. I feel honored to have known her and to have been part of her life."
Wing was born in Whitesburg, Ky., and grew up in Logan, Ohio. She graduated from Ohio University and earned her master's degree in social work from the University of Kentucky.
She began her career in social work with Lutheran Social Services in Columbus, and was part of a team that spearheaded a cutting-edge program that placed disabled children with adoptive families. After working for Child Focus in Cincinnati for the next 10 years, she was recruited by Clermont County to oversee the Cluster Program, an innovative initiative that connected nonprofit and social work agencies to provide an expanded repertoire of services to the community.
Her career was defined by her creative and progressive approach to helping families and communities.
"Eli was a versatile therapist," said Jan Pierson, Wing's supervisor at Family Solutions. "We could always assign her the reluctant client that she would engage, or the angry client that she would soothe."
In 1996, she moved to Family Solutions in Cuyahoga Falls, where she served as clinical director from 1999 to 2001. She retired from practicing traditional social work in 2002 after she was diagnosed with Sarcoma Cancer and began treatment.
She started consulting on a volunteer basis as she traveled with her husband, Stephen Wing, director of Workforce Initiatives for CVS Caremark, with civic organizations such as the Office of Disability Employment Policy and the National Council on Aging (NCOA). The NCOA will offer an award next year in her honor to a business that performs cutting-edge work in mature-worker issues.
Wing also helped introduce inner-city youth to careers in the healthcare industry and pharmacy.
Her compassion and love for life was evident in her personal life as well. As a student at Logan High School, Wing participated in a European tour with the All-Ohio Youth Choir, which cultivated her passion for travel. Throughout her adult life, she planned family trips both in the United States and abroad, and paid special attention to making the journeys culturally enriching and educational.
One of her last journeys was to China, where she was selected to represent the United States as a social worker in the People to People International program. She was tasked with comparing the issues faced by the elderly population in China with those in the United States. Her report has been filed in the Library of Congress for reference by congressional members.
Wing's Appalachian heritage was also a point of pride in her life. She and her husband have sponsored the Wing Family Appalachian Grant at Ohio University, which funds an Appalachian student to travel abroad with the Global Learning Center.
Wing made presentations to various national organizations and companies such as the U.S. Department of Labor's Women's Bureau on solution-focused therapy and how to take steps toward achieving dreams.
Wing practiced what she preached. She loved to write. She often wrote poetry and contributed articles to Caregiver Magazine on care-giving issues and the value of pursuing dreams. Some of her photography was featured in the American Society on Aging. She will also be remembered by friends and family as a talented singer and joke-teller.
"When we think of Elinda Wing the words of hope, courage, grace, determination, and love all come to center stage," said Pete Wyckoff, a founder of the Rein in Sarcoma Foundation. "Elinda faced Sarcoma with all of these and many more sharply honed qualities, yet love stands out for us."
Wing supported Rein in Sarcoma as a volunteer while receiving patient support from the Foundation.
"She fought long and hard because of both the love she gave to others and the love she received from Steve, her family, and friends," Wyckoff said. "Through her determination, she shared that love with others going through the sarcoma battle, sharing with them both hope and determination."
She is survived by her sons Thaddeus and Nicholas, daughter Emily, granddaughters Alexis and Lillian, and sisters Vickie Ellinger and Janie Robinson.
Her son Nick Wing, who is now a musician and composer in Nashville, TN, composed this homage to Elinda which today reflects both the loss of his mother but also his father Steve Wing who served on the RIS Board of Directors.