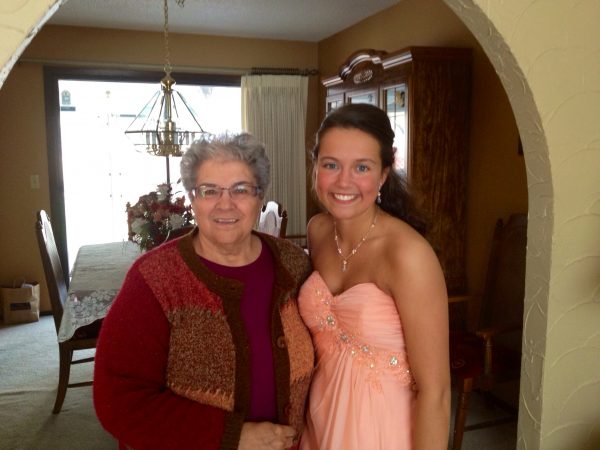 Type of Sarcoma: Soft Tissue Sarcoma
Date of Diagnosis: 2006
Location: leg
Our Mother Marge's Sarcoma journey began in September 2006, shortly after she and our Dad, Joe celebrated their 50th Wedding Anniversary. She had noticed that after taking a walk, climbing stairs or after a full day of completing her daily tasks and errands, that her leg felt like she had "a rope tied around the top of her thigh". It felt tight, achey and heavy. She passed it off as sore muscles, signs of aging and the beginning of arthritis after years of hard work at home and on her feet in the retail business.
After several doctor appointments that gave inaccurate diagnoses that lead to prescriptions for pain and arthritis medications, cortisone shots, an exercise regimen and being told to elevate her legs at night, she finally "demanded" that someone do an MRI of her leg. As a family, we have learned that it is important to be your own advocate when trying to get answers. Finally, the 4th doctor she had seen, conceded to do an MRI revealing a 6″ wide by 10″ long mass in her upper right thigh. A biopsy was immediately done and it confirmed that she had a soft tissue Sarcoma tumor in the muscle of her right thigh. And so, her Sarcoma journey began.
Our Mom has always been a fighter, a brave, strong willed, faithful woman and she was determined that with an incredible team of doctors, the power of prayer and support from her family & friends, she would prevail over this.
Her incredible medical team consisted of Dr. Thomas Amatruda (Oncologist – Virginia Piper Cancer Institute) and Dr. Denis Clohisy (Orthopaedic Surgeon – U of M). Our Mom's journey began with chemotherapy, followed by an extensive surgery to remove the Sarcoma along with her right thigh muscle. Her recovery included physical and occupational therapy to learn how to walk with a walker and function without a thigh muscle. Her strong will and determination was beyond admirable. As a family, we will never forget that first post-op appointment with Dr. Clohesy when he entered her room asking, "where's your walker?" She proudly replied, "at home, I walk with a cane!" He shook his head and asked her to show him how she could walk. We watched, beaming with pride at how this strong, brave woman was determined to prove to her medical team that she absolutely was going to walk again – the way SHE wanted to!
After a successful surgery and therapy, she received 38 rounds of radiation to help ensure that the Sarcoma would be defeated. As Dr. Amatruda put it, "this whole process will be inconvenient and annoying, but you will get through it, because you are a strong, determined and faithful woman."
One of our favorite stories is how a special leg brace had been designed, just for her, to help her walk without a walker. She was supposed to walk "a different way" with it, but she was determined to "walk the way she used to walk" and in doing so, she turned a High Tech U of M leg brace into a worthless piece of scrap metal, hand delivering it back to Dr. Amatruda in a pile with screws and springs, announcing "I can walk better on my own or using the PVC pipe walker that my husband made for me!" That is One Determined Woman!
She continued to amaze us over the next several years with resuming many of her household tasks, along with sewing, crocheting, going to watch her grandchildren at their sporting events and traveling every Winter to Texas with our Dad. Although there were adjustments to be made due to her restricted mobility, she still managed to entertain, cook and bake up a storm. She was no longer able to dance, which she loved to do, but decided to sell tickets at the dances down in Texas so she could still enjoy the music.
During her 11 year journey, she also battled and prevailed over breast cancer in 2010 and additional surgeries to her hip and then a broken femur bone in 2013. After that surgery, we, her children, urged our parents to move into a one level townhome to avoid her having to do any more steps.
We would often ask if she was in any pain, but she would brush it off and say it wasn't too bad and it was just something that was a part of her life now. She continued to do as many things as she could physically do and often pushed the limit on how far she dare take a task unassisted – there's that strong will again!
In late February 2017, while wintering in Texas, she noticed that she was having difficulty breathing and was often winded from a short walk from one end of the house to the other. She went in for an X-Ray and 2 small spots were found on her lung and a biopsy was recommended. Just a week short of coming back to Minnesota, she was hospitalized in Southern Texas on March 25th with fluid in her lungs. As a family, we flew to Texas to be with her and then rallied to get her transported back to Minneapolis where she could be with her team of doctors who knew her medical history.
We were able to fulfill her wishes of not only getting her back to Minnesota, but we got her back to her home on April 15th where we provided Hospice care for her until the Lord called her home on April 20th. We will forever cherish all that she taught us, the precious memories we have and all the special moments we shared with her in her final days.
We have been overwhelmed at the outpouring of friends and family making calls and sending cards sharing with us what an incredible woman she was. We were so touched that Sue & Pete Wyckoff from RIS came to her funeral, not even knowing her, but acknowledging that she was a Sarcoma Warrior and they wanted to welcome us into the family of Rein in Sarcoma. We are grateful that she will be immortalized with this Tribute and we know she is smiling, knowing that others can gain knowledge and benefit from her story.
In honor of Marge, her Family has established the RIS Marge Krauter Fund.
Story written by Arlys Krauter on behalf of the Family