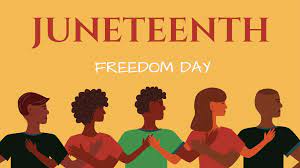 As I reflect on the upcoming Juneteenth holiday, it does not escape me that while Americans are celebrating the freedom of slaves, racial health inequities still exist in our country. Studies show that these disparities are found in sarcoma patient outcomes as well (Martinez et al 2008). African Americans are more likely to die from sarcoma than any other race (Alamanda et al, 2015).
While I'm only six weeks into my role as Executive Director at Rein in Sarcoma, I see an opportunity for us to lead the way toward improving sarcoma outcomes for African Americans, so that one day we will all be free from sarcoma.
Alamanda VK, Song Y, Schwartz HS, Holt GE. Racial Disparities in Extremity Soft-Tissue Sarcoma Outcomes: A Nationwide Analysis. Am J Clin Oncol. 2015 Dec;38(6):595-9. doi: 10.1097/COC.0000000000000004. PMID: 24401671. 
Martinez, S.R., Robbins, A.S., Meyers, F.J., Bold, R.J., Khatri, V.P. and Goodnight, J.E., Jr (2008), Racial and ethnic differences in treatment and survival among adults with primary extremity soft-tissue sarcoma. Cancer, 112: 1162-1168.