Friday, March 31 at the University of Minnesota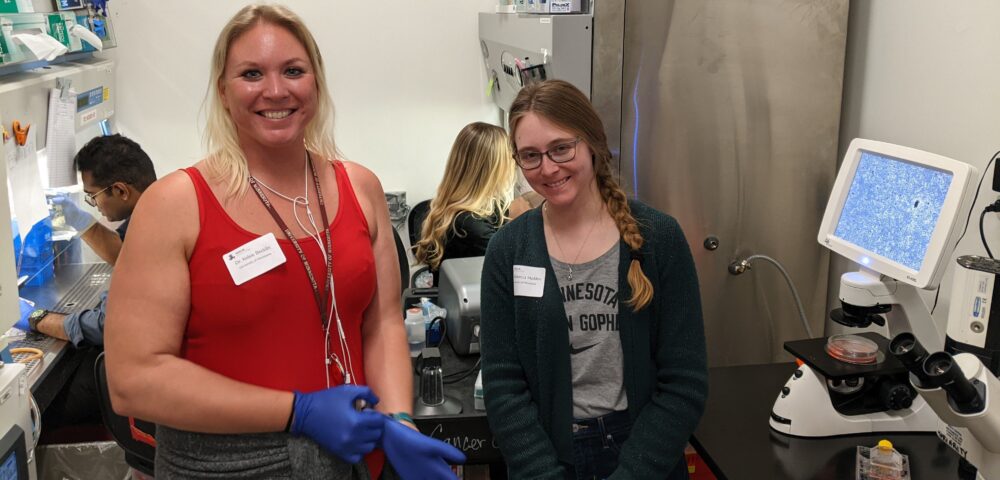 On Friday, March 31 Rein in Sarcoma hosted with Dr. Brenda Weigel of the Masonic Cancer Center our sixth annual Sarcoma Research Symposium featuring speakers who have received grants funded by the work of our community. After a light breakfast and warm welcome from Dr. Weigel, twenty-seven online participants and over forty in person guests ranging from graduate students, patients and families as well as to tenured medical professionals listened to:
Dr. Erin Dickerson, UMN "Using Propranolol to Generate Anti-Tumor Microenvironment"
Dr. Jaime Modiano, UMN "Identifying and Characterizing the Cells that Create the Primary and Metastatic Sarcoma Niche"
Dr. Kris Ann Schultz, Childrens Minnesota Hospitals & Clinics "DICER1 Related Sarcomas"
Dr. Berkley Grider "Identification of New Strategies to Therapeutically Intervene for Rhabdomyosarcoma by PAX3-FOX01 and MYCN"
Dr. Thanh Ho, Mayo Clinic "Clinical and Laboratory Tools to Evaluate Treatment Tolerability in Older Patients with Soft Tissue Sarcoma"
Lunch followed and we shared boxed lunches together talking to participants, and attendees in the spacious atrium and first floor café area. Thanks to Dr. Kelsey Becklin we followed up with an exceptional laboratory tour of the Dr. Beau Webber and Dr. Branden Moriarity labs where we saw osteosarcoma cells and Ewing sarcoma cells under microscopes. We learned about the equipment in the lab as well as methods practices and procedures to create new treatments for sarcoma. Stay tuned for our 2024 research line up. Please join us next year and participate in the work of RIS to keep improving outcomes.
Our gratitude for the supportive event work of: Emerson Fuller, Kayli Britos, Micki Driers, Katy Engelby, Dr. David Largaespada. We cheer on the work of graduate students, physicians, mentors, researchers and community members together.