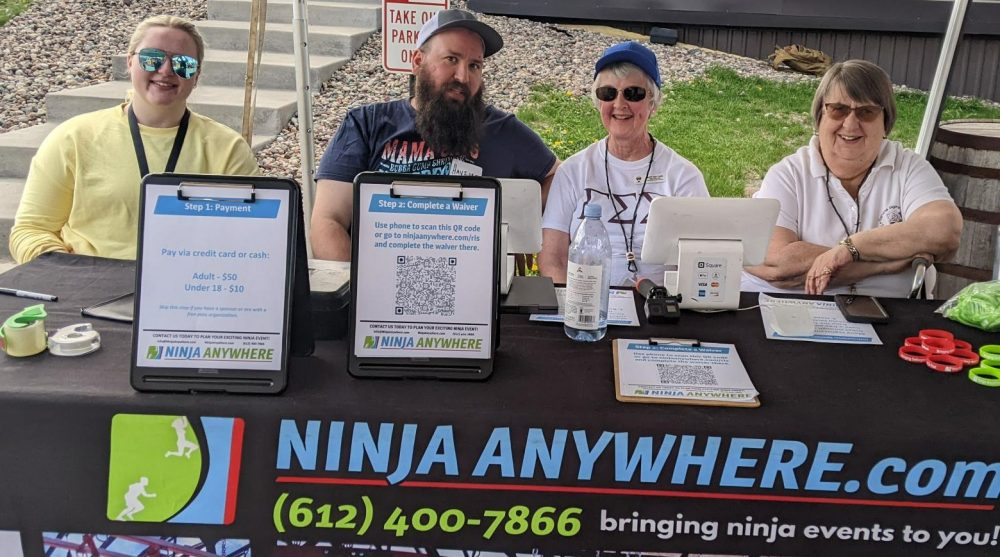 On Sunday May 15, 2022, the Rein in Sarcoma community hosted our first annual Ninja Anywhere: Rochester event dedicated to raising funds for sarcoma research and building community relationships. The event was held at the Little Thistle Brewery in Rochester, MN. The gathering was completely in-person and outdoors, celebrating the persistence and hard work of the planning team in the context of the pandemic. Over 50 registrants ran the 3 – 5-minute obstacle course. Many came to watch, eat delicious food from 2 Cavemen Grill'in and may have had a Legend beer.
The day began with longtime American Ninja Warrior, Roo Yori, racing the head-to-head obstacle course in front of the volunteers and early attendees. Roo shared the day with us, encouraging participants and honoring his amazing dog Wallace who was diagnosed with hemangiosarcoma. Look for Roo again in 2023 and a Wallace the Pitbull Foundation, education table. Captain Caleb Fein and the Rochester Fire Department #1 also came out to build community in tribute to fellow crew member and friend, Brett Boss. We had a 50+ ft ladder truck, the opportunity to try on equipment and talk to our local heroes.
The day also highlighted work of the Jan Maudlin Scholar program in Rochester, with 2021 – 2022 scholars Caroline Dougherty and Walker Schmidt attending the event and organizing the After Party. This gathering featured sarcoma physicians, Dr. Safia Ahamed, Dr. S. Mohammed Karim, and panelists Sherri Holmes, Judy Jones and Elsa Keeler. Conversation flowed earnestly about sarcoma for all in attendance. The scholars were able to share the significance of the program for their medical education, as well as the larger impact it would have on their future practice. The Maudlin family have sponsored this scholarship program for over 10 years, helping bring sarcoma awareness and education to our country's future physicians.
The next RIS Ninja Anywhere: Rochester event will be held on Sunday, May 7, 2023. Save the date and join us on a beautiful spring day for our second year. Come volunteer, help the planning team, link us to community sponsors, register to run, and stay for time together!